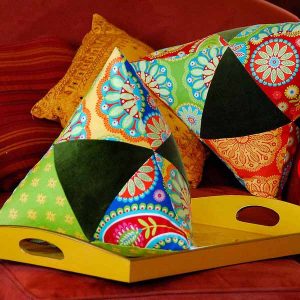 Making pillows in bright Gypsy style is a nice way to add a splash of color and romantic flavor to modern home furnishings. Gypsy style is in vogue, and craft ideas that use colorful fabrics with prints create cheerful room decor accessories for unusua living room sofa or Gypsy bed decoration.
Making pillows and decorating with fabrics are fun activity. Large decorative cushions and small pillows in bright colors attract attention, offering unique, cozy and personal room decorating ideas. If you know how to sew, like decorating with fabrics and appreciate creative craft ideas, making pillows that are shaped like pyramids offers wonderful craft ideas for you.
Gorgeous pyramid-shaped decorative pillow covers, inspired by Gypsy bed decoration, and beautiful fabrics prints will dramatically transform your living room or family room decor, bringing romantic charm of Gypsy style into your home.
Craft ideas for making pillows in pyramid shape
Decorative pillow covers for pyramid-shaped colorful cushions in Gypsy style, creative craft ideas for making pillows
If you like the pyramid shape and colorful, Gypsy style room decorating ideas, handmade decorative cushions, made of beautiful fabrics with prints in bright colors, are excellent craft ideas for you.
Making pillows Gypsy Romance
You will need four triangular pieces of fabric for each pillow form and four triangular pieces of colorful fabric with prints for each decorative pillow cover. First you make pyramid-shaped pillow forms, using good quality fabric and pillow filler. Then you create decorative pillow covers, selecting fabrics prints in colors that match your room decor.
You can combine bright and colorful fabrics with prints and fabrics in solid colors for making pillows that will attractively match your room decor style and color palette. Creative color combinations and silky fabrics with elegant prints or embroidery will add bohemian flavor to your living room, bedroom or family room decor.
The base of more advanced pyramid-shaped decorative cushions can be trilateral, quadrilateral, or any polygon shape, oval and square and you will need more pieces of fabric to create decorative pillows for your living room couch or bed. Colorful decorative pillow covers will add eclectic accents and fun to your room decor. However, making pillows that have a triangular base and equal sides are the simplest craft ideas.
Craft ideas for making pillows
Making pillows Pumpkins of decorative fabrics, fall craft ideas
Decorative cushions, inspired by favorite food
Craft ideas for decorating with fabrics
Stuffed animal bed covers for kids bedroom
Modern interior design trends inspired by patchwork fabric
Posted: 06.12.2011 by Decor4all