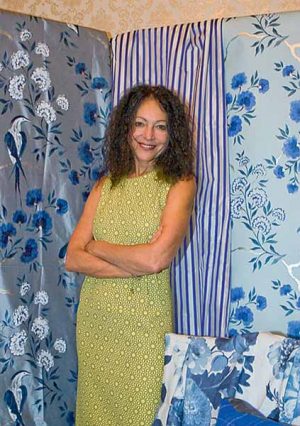 Modern home furnishing colors change every season, offering beautiful new hues and color combinations to clients, a British designer Tricia Guild says. Spring and summer home furnishing collections feel fresh and bring bold room colors. Decorative fabrics for fall and winter look more cozy and calming.
Light and natural decorative fabric textures, bright colors and nature inspired fabric prints are perfect for spring. Decorative fabrics for fall and winter include luxurious wool and silk, and damask fabrics. Combined with rustic decorating theme and country style fabric prints, they create wonderful contrasts and make fall and winter room decorating interesting.
Tricia Guild enjoys living in London. She likes her Italian villa also, and finds inspirations in Indian and Asian cultures. The author of the book Think Pink creates gorgeous decorative fabrics with butterflies and camellias in lovely turquoise colors, bright peonies and tangerines in reddish-orange and pinkish-orange colors, celebrating sunny and cheerful nature inspired fabric prints.
Color trends, charming pink paint for walls
Modern home furnishings colors, wallpaper patterns and decorative fabric prints from Tricia Guild
Lilac, pink and bold red colors blend into wavy, check and striped decorative fabric prints, creating amazing modern wallpaper patterns and luxurious furniture upholstery fabrics for stylish and elegant home furnishing.
Bright, India inspired, very decorative fabric prints and Japanese porcelain, kimono and rice paper are what the designer is thinking about working at her amazing cheerful and bright home fabrics collections.
Blue-n-white home fabrics from Tricia Guild
A new collection of decorative fabrics Amrapali, presented by Tricia Guild, the founder of Designers Guild, includes silk and linen. Colorful birds images, geometric and floral fabric prints and wallpaper patterns create amazing home furnishing trends.
Beautiful furniture upholstery dabric prints, modern vintage furniture
1. Dark blue color shades and blue color combinations with turquoise or white, indigo and lilac are modern home furnishing colors for decorative fabrics in 2012.
Silk cushion with birds images and flowers, decorative fabric in lilac color
2. Decorative fabrics in solid colors and beautiful wallpapers patterns in neutral colors are modern interior trends 2012 also.
3. Elegant black-n-white and blue-n-white decorative fabrics and wallpaper patterns are offered for fans of an elegant monochromatic interior decorating color palette.
Vintage furniture upholstery fabrics and painting ideas from Moissonnier
Tricia Guild is the author of the lifestyle decorating concept. The complete set of curtains and tablecloth with napkins, throws and decorative pillows, furniture upholstery fabrics and bedding, wallpaper and lamp shades create harmonious and stylish home interiors, celebrating your favorite home furnishing colors and creating gorgeous room decor.
Posted: 20.12.2011 by Decor4all