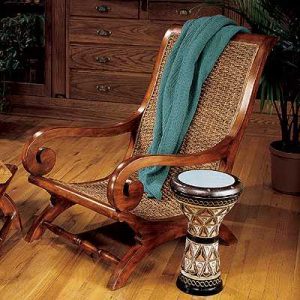 Modern interior decorating in colonial style is a remarkable blend of European and Asian or European and Latin American furniture, decor accessories and architectural elements that came from different cultures, – Burma, India, Indonesia, Malaysia and Vietnam or Central and Latin American countries.
Colonial style house interiors are gorgeous, elegant and feel timeless. Luxurious interior decorating with natural materials, exotic wood furniture and wicker furniture, beautiful home fabrics with unusual patterns and handmade crafts create stunning homes in colonial style. Most room furniture and decor accessories, textiles and decorative fabrics are handmade, and it creates a unique atmosphere of luxury, cosiness and peace.
The nature inspired decorating themes fill up the rooms in Colonial style house. Animal and bird decorating theme are especially dramatic and impressive. Room furniture and decorative fabrics patterns, inspired by exotic animals and birds, create remarkable interior decorating ideas that explore unusual shapes and color combinations.
Bali furniture, Indonesian art and interior decorating in colonial style
Living room furniture and decor accessories for colonial homes
Shelved and furniture can be decorated with figures of elephants, and cabinets and tables legs mimic lion paws. In Eastern countries images of animals are lucky talismans, and it influences furniture design, making colonial homes look so different and dramatic.
Furniture in colonial style is most often made of teak wood, which is not afraid of water and is perfect for intricate carving. Very popular as yew, Asian walnut, tulip and rubber. Rattan is widely used for the manufacture of wicker furniture, lightweight, strong, versatile and suitable for any climate.
Amazing Colonial style house with carved wood wall panel, wicker furniture and decor accessories
Room furniture and decor accessories, floor rugs and outdoor furniture made of bamboo, rattan, leather and dark wood add the ethnic flavor to interior decorating in colonial style and make colonial homes feel comfortable and luxurious. making ethnic accents in the interior.
Colonial style wallpaper and furniture
Dark wood color tones and natural neutral colors for interior paint or wallpaper are an excellent background for showcasing wonderful Asian furniture and decor accessories that bring ethnic charm into Colonial homes. Natural decorative fabrics and calm interior decorating colors make Colonial style house interiors feel pleasant, relaxing and comfortable.
Posted: 31.08.2012 by Decor4all