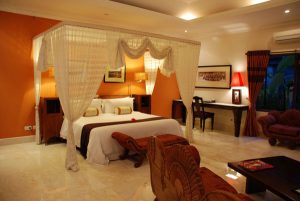 Bali furniture, Indonesian art and unique oriental decorative items create amazing, warm and sensual interior decorating and exotic atmosphere. Described as a perfect romantic destination, Viceroy Bali is a luxury resort that offer beautiful rooms with Asian decor that can inspire your home decorating ideas in Indonesian style.
Romantic retreat in a stunning environment and gorgeous rooms decorated with Bali furniture and Indonesian art pieces, Viceroy Bali situated on a secluded ridge of the Petanu River gorge along Valley of the Kings.
The generations of Balinese royalty have resided in nearby villages, enjoying the spectacular natural beauty of the valley.
Top 5 modern interior trends in 2012 interior decorating
Colonial style house, modern interior decorating style of unique Colonial homes
Viceroy Bali resort and spa
The resort and spa offers 25-villas, celebrating Indonesian handicraft and Asian decor style. Each villa has a private indoor or outdoor swimming pool and private outdoor spaces with luxurious and artful Bali furniture, Indonesian art and stunning valley views.
The property offers guests one of the island's top restaurant, a perfect spa perched atop a gorgeous hill with spectacular views overlooking the Petanu River gorge, a complete and modern gymnasium, a valley-top infinity pool and a library. Villas can be booked all year around from $600 per night.
Ideas for creating Asian decor
Bali furniture for luxurious bedroom decorating
Unique Indonesian handicrafts, exotic wood texture, rich dark wood colors and skillful craftsmen's know-how make Bali furniture very decorative and unique.
Art Nouveau decorating ideas, spiced with Indonesian handicraft
Modern oriental interior decorating ideas from JP Passion
Simple and elegant colonial furniture or exclusive wood carved Bali furniture pieces, made of exotic woods and bamboo, are excellent addition to your interior decorating in Asian style.
Unique ceiling design, Bali furniture and Indonesian art works for bedroom decorating
Indonesian art and handicrafts are gorgeous and exciting decorative items that will bring the exotic flavor of Bali into your home interiors, creating expensive and rich interior decorating.
Bali furniture and Indonesian art for bedroom and bathroom decorating in Asian style
Posted: 01.02.2012 by Decor4all