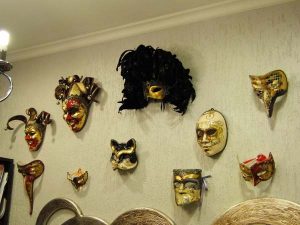 Designing, painting and decorating masquerade ball masks Venetian style is a way to enjoy beautiful craft ideas, creating unique and unusual room decor accessories and modern wall decorations. Venetian masquerade masks are simple craft ideas that will enrich your wall decorative collection or add modern and bright room decor items to your home interiors.
Masquerade ball masks make excellent gifts for men and women. A Venetian mask on the wall looks gorgeous in any room. Stylish hand painting and decorating ideas make masquerade ball masks even more special and personal gifts for people you love.
Masquerade ball masks symbolize the mystery and illusions. Masquerade masks in Venetian style are spectacular, offering striking and unforgettable items for furniture and wall decoration. Colorful and captivating masquerade ball masks are ideal room decor accessories for bringing more color, shine and fun into interior decorating, creating stunning and personal wall decor.
Modern wall decoration ideas
Mirror wall stickers, wall decorating ideas
Juju hats, modern wall decor ideas and feathers decorations
Venetian masks as wall decorations
Modern wall decoration with Venetian masks made for a masquerade
Venetian masks are simple craft ideas and easy to use wall decorations that add mysterious accents, bright color, unusual designs and various textures to wall decor.
Masquerade mask craft ideas
Making masquerade masks for men and women
1. Masquerade masks, inspired by Venetian carnival, can be ceramic or plastic, made of leather, fabric or papier-mache and decorated with silver and golden paint, rhinestones, decorative ribbons, colorful glass beads, sequins and bird feathers. Masquerade masks for men and women differ in design and decorating style.
2. Pick a design for your mask. Masquerade masks for men cover the forehead, cheeks and up over the nose. Venetian style masquerade masks for women looks like cat-eye glasses on the sides. Colorful, silver or golden, white or black masquerade masks for women are narrow and barely cover the nose.
3. Cut the masquerade mask design out of the white mask. Spray the mask and dowel rod with paint. Glue feathers to the back side of the top of the masquerade mask. Traditionally masquerade masks  for men have short feathers across the top, while masquerade masks for women have short feathers on the side and tall feathers decorations in the middle.
4. Glue the dowel rod to the back of a female mask, beside the right eye. Glue sequins to the front of the Venetian mask.
Craft ideas for making unique wall decorations
10 modern wall decoration ideas with fabric
Unusual flower arrangements, wall decoration, craft ideas
Decorative bird house theme and kids room wall decorations
Posted: 03.07.2022 by Decor4all