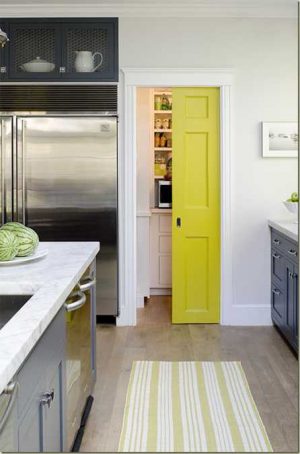 Bright yellow color is a great choice for giving a fresh touch to elegant kitchen decorating in neutral gray color. Yellow color and dark gray tones creates a bold color combinations that makes an impression. Gray color shades are wonderful and timeless. With yellow color accents gray kitchen cabinets look sophisticated and stylish.
Gray kitchen decorating colors offer a variety of possibilities for bringing bright accents and creating unique and modern kitchen design. Yellow color is warm, exciting and powerful. Gray and yellow color shades are one of possible bold color combinations for modern kitchen decorating that feels energizing, optimistic and happy.
Yellow color accents transform kitchen design, creating a splash of inspiring, amazing and sunny yellow color to kitchen decorating palette. This modern kitchen is designed by Jeanne Rapone, jeannerapone.com/index.htm By adding a gorgeous splash of citrus yellow color to the pocket door, bringing green accents into kitchen with indoor plants and adding kitchen accessories in bright yellow color, the designer obtained a fabulous, energetic and fresh kitchen interior.
Bright yellow and gray kitchen colors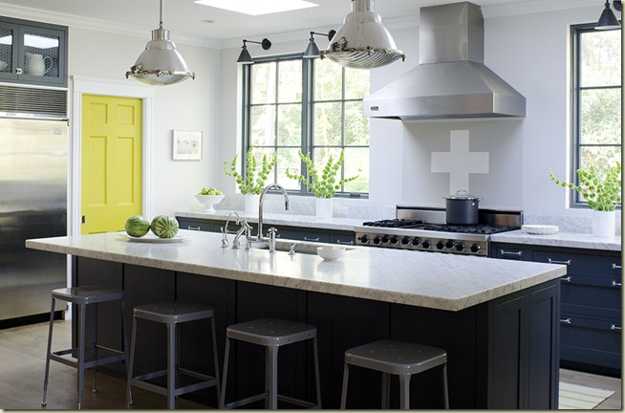 This beautiful yellow and gray kitchen decorating color combination looks fantastic, highlighted by luxurious thick marble countertops that help create a classy, timeless and stylish effect. Traditional kitchen design in soft white and dark gray color tones is brighten up with playful light yellow color accents. The  French doors, wooden window frames and built-in china cabinet look familiar and elegant, creating a wonderful background for bright yellow paint and kitchen accessories in light yellow color.
Yellow and dark gray kitchen colors are beautiful combinations that can inspire interior decorating ideas for other rooms in your home. There is a good reason why these decorating colors work together so well. Yellow color is bright and cheery. Yellow color shades evoke positive feelings. Decorative accessories in light yellow colors, including kitchen accessories, combined with yellow paint set a good mood in the room, lighten up dark gray color tones.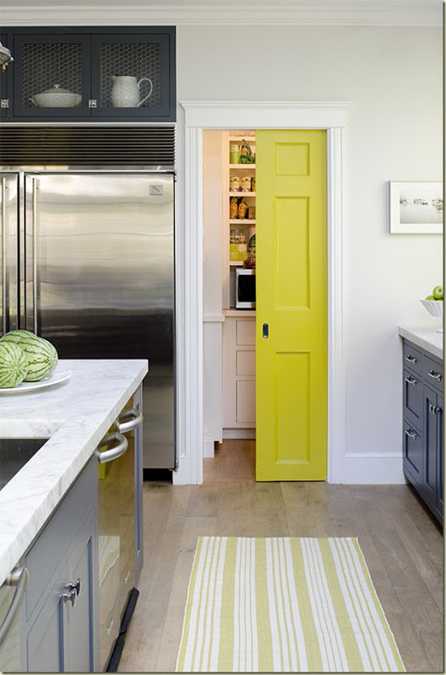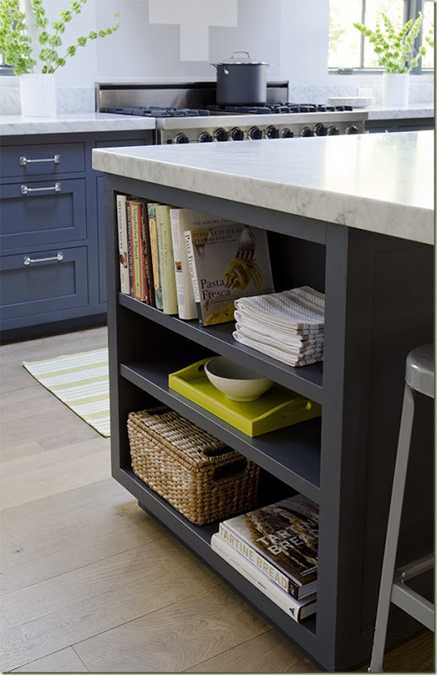 The neutral white and dark gray kitchen colors create balance, and bold decorating accents in yellow color bring energy and drama into classic kitchen interiors or other rooms with gray furnishings or walls. Any yellow color shade is perfect for modern kitchen decorating. Yellow accents add a contemporary flare to traditional kitchen design in classic style.
Light gray and yellow color scheme, calm fall decorating ideas
Bedroom wallpaper in black, white and gray colors, one wall decoration
Yellow color is loud and happy, and offer an ideal choice to make an interior with dark gray kitchen cabinets feel warm and inviting. Yellow color shades create fabulous and versatile decorating color combinations for all modern kitchen styles.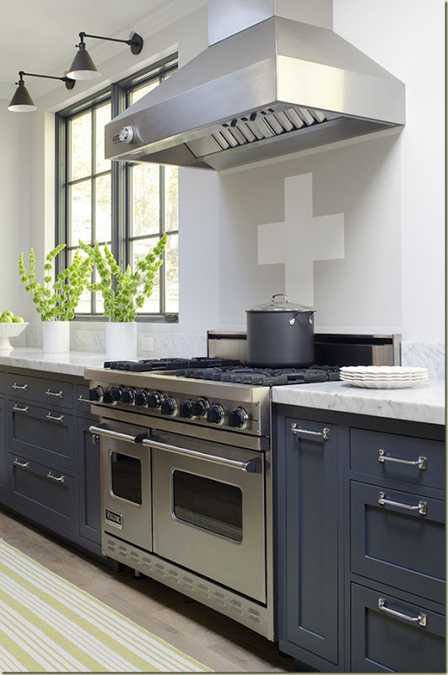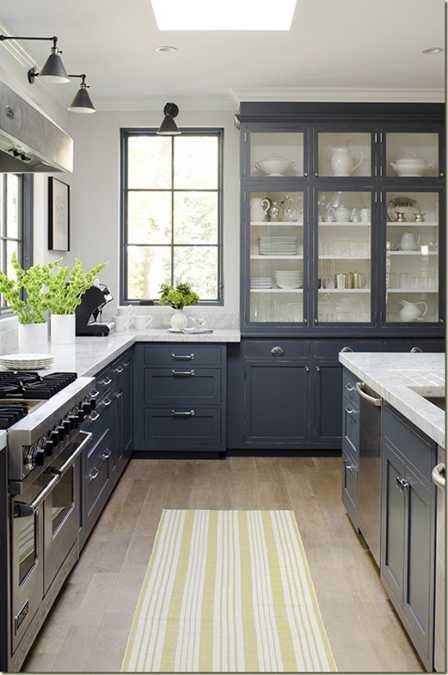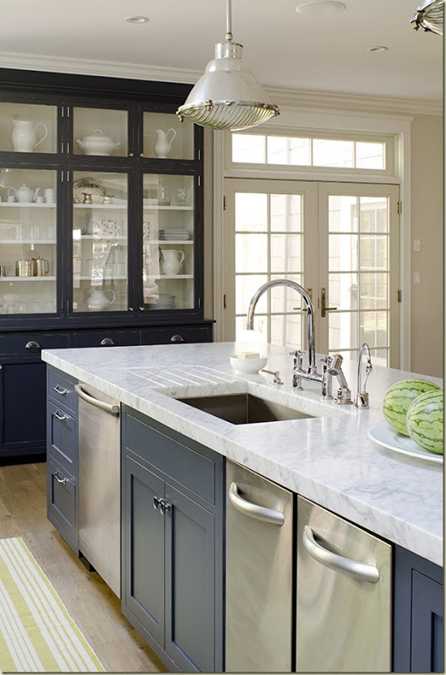 Yellow color is luxurious, exclusive and fascinating choice for modern kitchen decorating. Yellow accents add a peaceful appearance to dark gray kitchen cabinets and what decorating ideas, and remind people of sunshine and warmth. Yellow and dark gray kitchen colors will allow sunlight to come into your home while keeping your modern kitchen design look elegant, calm and classy.
White decorating with yellow color accents, contemporary apartment ideas
Yellow flower, eco craft ideas for floral table decoration
Gray and yellow color combinations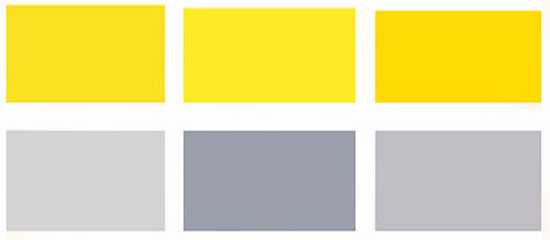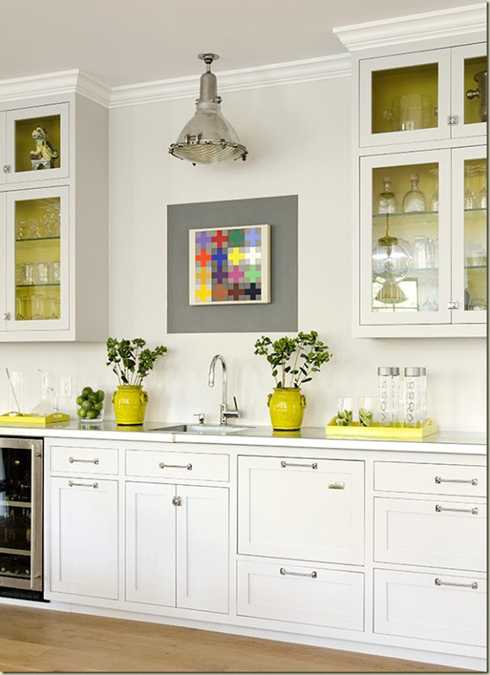 Posted: 17.04.2013 by Decor4all