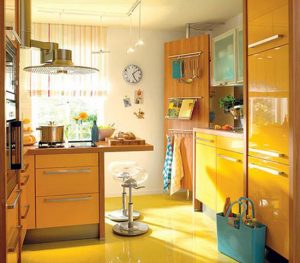 Yellow and turquoise color combination makes modern kitchen feel cheerful and optimistic. Bright yellow and light turquoise colors create sunny kitchen interior, filling modern kitchen design with energy and warmth. Contemporary appliances and space saving ideas add comfort to small kitchen interior.
Yellow and turquoise color combination, combined with white wall paint and contemporary lighting, create modern kitchen that looks functional and cozy. Modern golden yellow colors are warm and cheerful. Yellow colors are perfect choice for eating areas and kitchen interiors.
Beautiful turquoise color tones add relaxing mood and calming decorative accents to modern kitchen design, offering a pleasant place to cook and enjoy meals. Sheer kitchen curtains, glossy kitchens cabinets and light yellow and turquoise color combination is ideal for small kitchen design and make small kitchen interior look brighter and airier, visually increasing the kitchen size.
Modern kitchen design in bright yellow and turquoise
Green paint for small kitchen decorating
Small kitchen design in yellow and turquoise colors
Juicy yellow shades and turquoise color creates harmony with natural wood, white wall paint and lemon yellow  floor. Modern kitchen cabinets reflect light, stretching small kitchen interior space visually.
Turquoise color accents bring balance with cool green-blue tones, creating sunny and fresh modern kitchen design in yellow and turquoise color combination.
Built-in contemporary kitchen appliances for space saving small kitchen design
Functional and comfortable kitchen cabinets with multi-functional racks and drawers are decorated with contemporary hanging doors made of frosted glass in turquoise color. Built-in appliances, rotating storage  racks and convenient shelves are space saving ideas that add organization and comfort to modern kitchen design.
Modern kitchen decor in Tuscan style
French country kitchen decor in white and pink-red colors
Space saving ideas are important for small kitchen design. Bar chairs hide under the convenient solid wood shelf, creating more room in the kitchen. Chair seats are made ​​of transparent plastic that help bring more light into kitchen interior, creating comfortable and elegant, functional and modern small kitchen design.
Decorating small spaces
Small bathroom decorating color combinations
Decorating small rooms for a single woman
Modern kitchen decor
Modern kitchen accessories for spice storage
Modern kitchen curtains and window treatments
Posted: 03.12.2011 by Decor4all