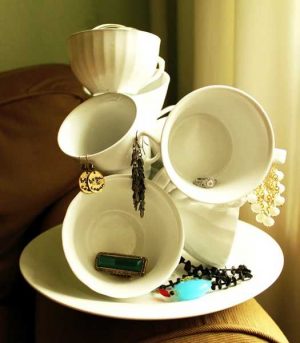 DIY bedroom organizers are great craft projects blending recycling ideas and creative design. DIY bedroom organizers bring more comfort into modern homes, offering attractive storage solutions for your belts and jewelry pieces. Unusual and interesting bedroom organizers restore order, enrich bedroom decorating with handmade accents and help maintain beautiful and tidy bedroom decor with simple organization and convenient storage solutions.
DIY bedroom organizers can make fabulous centerpieces. Some of your accessories are works of art, so why not display them as such? Paint branches on the wall and add hooks or use vintage decor items, like an old chest drawer or window frame to make a tidy yet visually arresting display. Paint wooden organizers bright color or select  the color that supports your bedroom decor, creating more interest and harmonizing room.
Shadow box jewelry organizers are fun projects. Some baubles are just too pretty to put away at the end of the day. A jewelry organizer and display case can be made from a basic shadow box. Decluttering your home and recycling useless or broken items for bedroom organizers help design a fantastic wall decoration with your favorite jewelry pieces, and keep them within reach.
DIY bedroom organizers
25 DIY jewelry organizers blending unique vintage style with functionality
Buy or DIY jewelry organizer, wall decoration in vintage style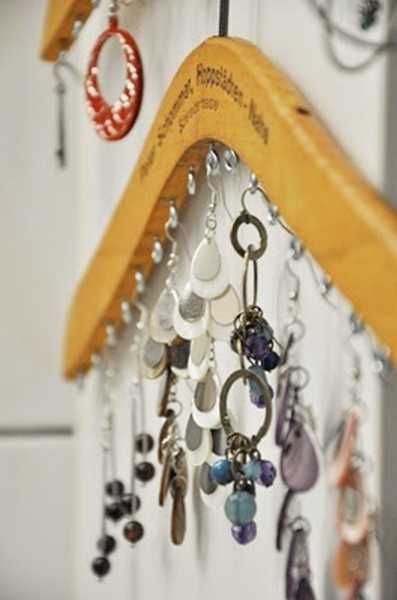 Ceramic watercolor palettes provide perfect slots for sorting and separating earrings and other small jewelry pieces. Ceramic cups and small bowls on a serving tray make delightful displays on dressers when filled with colorful gems.
A vintage medicine cabinet can take on a more glamorous role of a jewelry cabinet. Refurbished and hung in the bedroom, an old wooden cabinet is perfect to stash jewelry, perfume, and other accoutrements. Creative and charming cabinet in vintage style is a nice way to enrich bedroom decorating ideas by adding unique and charming accent.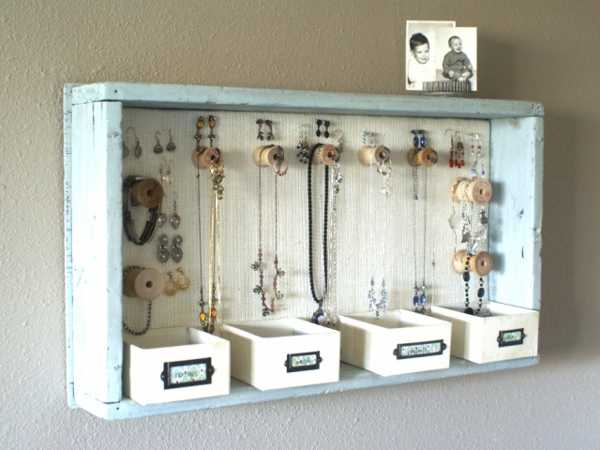 Plastic organizers for ties are excellent for keeping belts, watches and necklaces in order. Portable hooks and hangers give a nice home for your belt collection.
DIY padded hangers for your closet, simple craft ideas
40 handbag storage solutions and bedroom organizers for small spaces
Orphaned teacups and saucers, bowls and small glass jars are perfect vessels for sorting jewelry, and, when arranged in a velvet-lined drawer, they give you an easy-to-scan bird's-eye view of your bijoux. Hook drop earrings on rims of cups, nestle necklaces within them, and stash chunkier beads and bangles on individual saucers.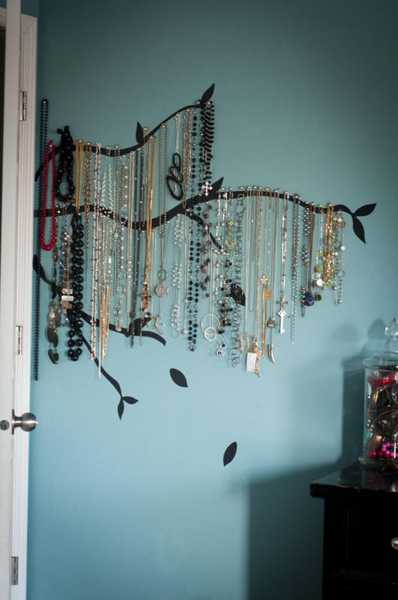 Posted: 05.11.2012 by Decor4all