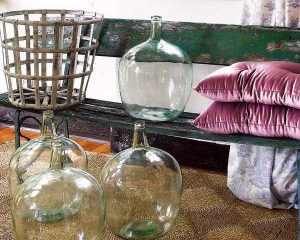 20 modern ideas for country home decorating bring an elegant black color into country style decor, creating stylish and gorgeous home interiors. Country living is about the simplicity and comfort. Black color, wrapped into easy and relaxing home decorating, produces nostalgic country style decor ideas that make country homes look sophisticated and comforting.
Country style decor can mean different things to different people. Black color is a nice way to to add elegance to country style decor and create modern home interiors to enjoy rustic design.
There are many styles of country home decorating and rustic decor that share a similar theme. Take for instance the various styles of country cottage decorating, rustic home decor, Americana Decorating, Primitive Decorating Ideas and the similarly themed Tuscan decor.
Country decorating with gray, white and pink-red colors
French country home decorating ideas from Provence
White and black wall tiles and curtain fabric for elegant country style decor
All country style decor ideas, rustic home decor and Tuscan decor designs share common elements in the way they use natural textures, decorating materials and colors, blending them with rustic home styling accessories.
Interior decorating with black color is a nice alternative to traditional country style decor in pastel colors. Country style decor with black furniture, painted black wood ceiling beams, furniture upholstery fabrics and decorative accessories look not only stylish by also very harmonious and balanced.
Black kitchen cabinets and dining furniture, country home decorating with black color
o diverse that it is difficult to imagine all the possible variations. Today we offer you examples of how stylish looks black in the interior in the style of country music.
Modern bedroom wallpaper in black, white and gray, accent wall design
Airy apartment decorating in Swedish style, modern apartment ideas
Black and white decorating ideas, old house interiors makeover
Traditional country style decor are about wooden floors and floral wallpaper patterns, wood or wicker furniture. and decor accessories. Adding black color to country style decor creates an unusual look and add drama, making interior decorating feel interesting, modern and beautiful.
Black dining furniture and storage cabinets, country style decor for dining room
Interior decorating with black color always looks noble and sophisticated. Black color changes country style decor, creating strong contrasts and bringing excitement and flair into interior decorating. Accent wall design in black color of wood furniture painted black, small decor accessories or living room furniture upholstery fabric or black leather, black bedding or wall art in black frames, – all country style decor ideas that incorporate black color tones look more elegant and stylish, wonderfully matching white and any other color.
Posted: 15.09.2012 by Decor4all