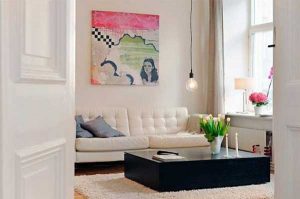 Take a look at these beautiful and airy apartment decorating ideas in Swedish style. Scandinavian interior decorating is light and functional. Scandinavian homes with spacious rooms, tall windows and bright interior decorating look inviting and pleasant. White decorating ideas, jazzed up with bold color accents, look youthful and very attractive.
This apartment has three windows, two of which are in the living room and one in the bedroom. Stylish white kitchen cabinets and dining furniture emphasize beautiful blue wallpaper with floral design. White and black living room furniture and bedroom decor look gorgeous with warm wooden floor.
Hardwood floors and white decorating ideas are common choices for Scandinavian homes, including interior design in Swedish style. White decorating ideas add light to modern home interiors, and wooden floor make Scandinavian homes look sunny and warm.
White apartment decorating in Swedish Style
Swedish style apartment ideas, black-n-white living room furniture, white floor rug and white walls
Scandinavian homes decor and Swedish style is a popular trend in design and interior decorating. Scandinavian homes are associated with the simplicity and natural materials, unpretentious interior decorating ideas and functionality.
White decorating ideas, white paint for walls and furniture, white cabinets and bathroom tiles, white floor rugs and throws with decorative pillows create a fresh look and open spaces, visually stretching rooms dimensions.n
White dining furniture and accent wall created with light blue wallpaper
White walls look bold with wooden floors, creating a warm and neutral background for displaying simple and attractive wood furniture made of natural material, bleached or painted white wood.
Charming Scandinavian homes, the essence of Scandinavian interior style
Scandinavian house, white decorating, attic penthouse in Sweden
Small bathroom design looks sufficient and attractive with contemporary glass and white wall tiles. Stylish shower head and heated floor design add comfort and appeal to a small room.
Small home office desk in white color and red chair, space saving interior decorating ideas in Swedish style
White decorating in Scandinavian homes
Posted: 24.08.2012 by Decor4all