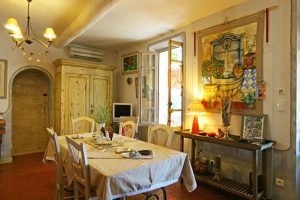 Provence country home decorating ideas is about rustic look, beautiful natural color palette and welcoming home atmosphere. French country decorating is warm and casual, elegant and charming. Stunning French country decor in Provence is a creative reflection of delightful weather, charming old villages on picturesque hilltops overlooking the Mediterranean Sea.
French country decorating style in Provence is inspired by lavender fields, rustic wood, green hills, turquoise sea and warm sunshine. Sunny yellow, turquoise and blue-green colors of Mediterranean sea waves, golden and deep red colors, fresh foliage green and emerald green color tones, dark blue and tender lavender colors are perfect for country home decor, inspired by stunning Provence country homes.
French country design often incorporates  black, soft cream and elegant gray color shades, adding unique charm of French style to interior decorating. French country furniture and room decor accessories often have rusted metal and rustic or distressed wood look, and decorated with delicate carved ornaments and ruffles, create vibrant French decor with casual chic flavor.
Country style decor ideas
Caps for cups, kitchen accessories and table decorations
Eco friendly table decorations and centerpiece, driftwood craft ideas
Provencal cottage style decor ideas
Provencal cottage style decor calls for natural materials. Wooden beams on the ceiling and delicate carved wood details on French country furniture, woven textiles and nature inspired simple French home design celebrate elegance, simplicity and luxurious textures, like cotton, wool, natural stone, brick, painted glass and clay, that decorate home interiors with famous French chic.
Colorful Provencal home decor fabrics emphasize light tones of natural colors, used for making French country furniture or wall decoration.
French country home decorating ideas
French country home decorating with gray, white and pink-red colors
Summer flower interior trend and color combination for country home decor
Beautiful colors of green hills and blue sea, warm yellow, bright orange and red colors of Provencal countryside flowers are combined with lavender and white color tones in attractive French county furniture upholstery fabrics that make country decor feel warm and bright.
Country home decorating ideas with French chic
Traditional Provencal fabrics prints include stripes, plaids and checks for modern interior decorating that reflect old traditions. Roosters and olives, grapes and local flowers or herbs, lemons and sunflowers, beetles and lavender are the most popular French design motifs in Provence.
Olive trees and wild flowers, rows of grape wines and oak trees, cypress trees and roses, sunflowers and lavender plants surround a French country home, decorating its exterior with white cream, red, light purple, yellow and green colors.
Natural wood, stone and tiles in soft natural colors add French chic to simple and comfortable country home decorating. Old trees and beautiful flowers create peaceful Provencal atmosphere.
Country home decorating in Tuscan style
Tuscan kitchens, country style decor
Backyard ideas, Tuscan decorating style
Yellow and red Tuscan colors, bedroom decorating ideas
Tuscan bedroom decor in blue and green colors
Posted: 29.09.2011 by Decor4all