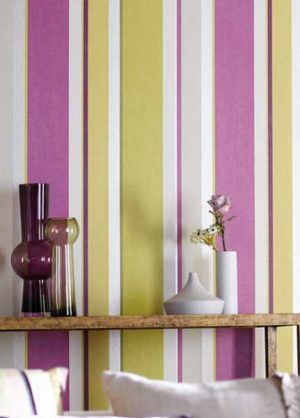 Striped wallpaper patterns are a vibrant modern design trend in wall coverings. Attractive and bright or elegant and calming striped wallpaper patterns by Tapeten Agentur are perfect for your empty walls. Stylish colors and trendy color combinations will create bold splashes in your rooms and add organization to your wall decorating with crisp, clean lines of gorgeous stripes.
Vertical stripes add height to your interior design. Horizontally placed stripes on walls lead your eye across the room, making it feel spacious and continuous. Diagonal stripes make your interior look unusual and dramatic, and help balance your rooms proportions.
The latest striped wallpaper patterns collection comes in a pink and light green color design, a purple and green color combination, and a classy black, white, gray and yellow colors.
Striped wallpaper patterns for modern wall decorating
Purple and green wallpaper with stripes
Gorgeous, cheerful and colorful or slimming and quiet, striped wallpaper patterns bring a dramatic change into interior design, offering interesting and modern wall decorating ideas and making a strong statement.
Gorgeous stripes make a splash in living and dining rooms, sitting areas, bedrooms and kids rooms. Kitchen and bathroom decor can be quickly transformed with beautiful wallpaper patterns also.
Bright pink and green wallpaper pattern with horizontal wide and narrow stripes
An accent wall or all empty walls decorated with modern stripes wallpaper patterns are the nice ways to jazz up your modern wall decorating.
Striped wallpaper for wall decorating in eco style
15 tips for modern interior decorating with stripes
You can combine fabulous striped wallpaper patterns to give your modern wall an artistic touch. You can create an exciting blend of striped wallpaper patterns with different patterns in the same color palette to add energetic contrasts to modern wall decorating and designing a one of a kind wall decor. Beautiful wallpapers from Tapeten Agentur are great inspirations.
Latest wallpaper collection, yellow, gray and black stripes
Posted: 01.09.2012 by Decor4all