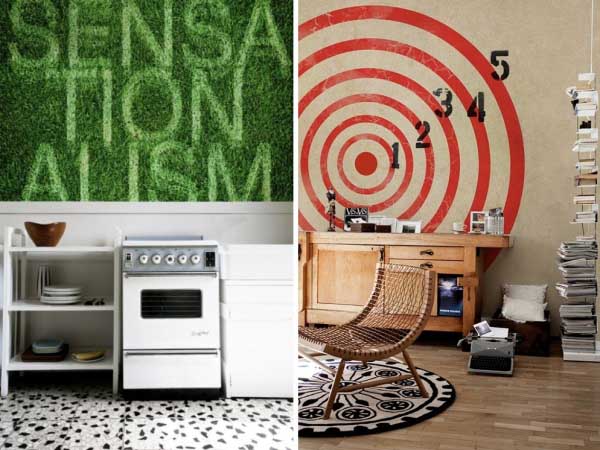 Beautiful and creative latest wallpapers from the Italian company Wall&Deco make a new wallpaper collection for unusual and modern wall decorating in 2012. The collection of modern wallpaper patterns Life 2012 includes 26 unique conceptual wallpaper designs with impressive prints and images for stylish and unique interior decorating.
Each of beautiful wallpapers with retro and contemporary prints has a unique theme and name, offering inspiring ideas for modern interior decorating with architectural features and sculptures, familiar images and patterns, simple numbers and various material textures.
Large selection of decorating themes and modern wallpaper patterns in neutral black, white, beige and gray colors allow to find the best wallpaper designs for your walls to match any interior decorating style and color palette.
Latests wallpapers trend, retro modern wallpaper designs
Beautiful wallpapers, romantic vintage wallpaper patterns
Beautiful wallpaper designs from the collection Life 2012
Unique wallpaper patterns, latest wallpapers from Wall&Deco, Italy
Some of high quality, striking and beautiful wallpapers are inspired by antique and vintage designs, adding stylish retro accents to modern wall decorating and creating exclusive interiors in minimalist, traditional or classic decorating styles.
Others wallpaper patterns bring  designs, inspired by ultra-modern textures and materials, like wood, brick or concrete, offering unique interior decorating ideas for modern homes.
Latest wallpapers for retro decor, modern wall decorating ideas from Italian designers
Simple and elegant latest wallpapers from Wall&Deco are excellent for creating retro decor and adding vintage flavor to modern wall decorating.
Bedroom wallpaper in black, white and gray colors, one wall decorating ideas
Modern wallpapers with leaves, beautiful interior decorating in eco style
Latest wallpapers for modern wall decorating from Wall&Deco
Posted: 24.01.2012 by Decor4all