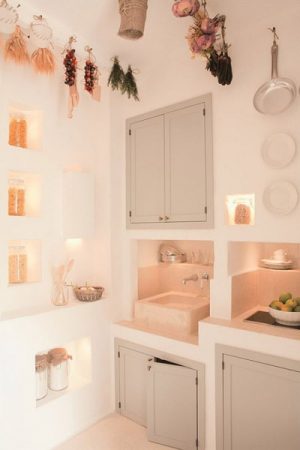 White home decorating feels airy and spacious. White decorating ideas from luxurious Borgo Egnazia Hotel  can be a great inspiration for creating breezy, light and stylish room decor in white room colors. The hotel rooms are furnished in traditional Southern Italian decorating style, offering luxurious and comfortable interiors in cooling soft white colors.
Featuring traditional white home decorating ideas and architecture from Puglia, and offering a panoramic setting in the Mediterranean vegetation, Borgo Egnazia Hotel is beautiful and inviting. The luxurious hotel interiors are decorated with soothing white room colors.
White decorating ideas look anything but basic in a living room filled with attractive accessories and soft fabrics. Mirrors, white ceramic table lamps and candles bring more lighting into interior decorating, creating beautiful combination with white room colors.
Unique Sicilian homes, traditional Italian decorating style
Italian style country home Casa Up, old house renovation and interior design
White room colors
Living room furniture in white color, Italian style home decor ideas
White room colors are great for creating a neutral background. White color symbolizes purity and cleanliness. White color tones convey the most meaning in traditional Italian interior design and decorating, bringing softness, cooling and calming color shades into home interiors.
Charming ivory and beautiful creamy white room colors carry the same attributes as white but are more subdued, less brilliant than plain white decorating tones. Lots of white create unique sense of symmetry and create very light interior design.
White paint and furnishings, Italian style white decorating ideas
White room colors are great for summery look, creating cooling and fresh effect, especially pleasant in hot climates.
Tuscan home decor ideas, Italian interior design style
French decorating ideas in white colors
In the luxurious hotel Mediterranean cuisine can be enjoyed on the outdoor sea-view terrace, or under traditional vaulted ceilings in white stone. White interior design and exterior decorating create bright environment that improves mood and perfect for relaxation.
Bedroom decorating ideas, white room colors
Hotel buildings and rooms look exactly like traditional Italian homes in this area, celebrating beautiful Italian weather and light decorating ideas in Italian style.
Contemporary homes, interior decorating in white
Bedroom wallpaper in black and white
Antique white and linen, buttermilk and antique grayish white tones, cornsilk and ivory room colors look gorgeous, creating exclusive and elegant interior design and decor.
Posted: 07.02.2012 by Decor4all