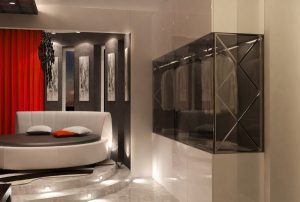 Black and white decorating color palette, combined with stylish and simple modern furniture and lighting fixtures, create sophisticated contemporary home interiors that provide beautiful and comfortable rooms for rest and relaxation. Red color accents bring energy and add more interest to modern interior decorating in neutral color palette.
Different floor levels and comfortable seating area which is slightly below the main floor level are one of modern interior design trends for contemporary homes and studio apartments.
Low contemporary living room furniture, that look like built-into the floor, and soft carpeted floor are stylish interior decorating ideas that create comfortable and relaxing atmosphere in the living room.
Bold apartment ideas, unique floor design, white living room furniture and red decorative pillows
Designers from Ukrainian architectural and interior design studio Flatt Studio, www.flatt.com.ua/ base in Dnepropetrovsk, added bold red color accents to calming interior decorating ideas and neutral color palette, making rooms feel more exciting and romantic.
Comfortable interior decorating in black and white color tones and red color accents are sensual and seducing, offering tranquil and peaceful living spaces for rest in style.
Black and white decorating color palette and red wall art
The bed is lifted, adding romantic and exotic feel to modern interior decorating. Unique shelves and lighting fixtures, soft white and black decorating color palette, spiced up with red color accents, – pillows, curtains, towels and wall decorations, – look gorgeous and impressive.
Techno interior design style, contemporary room decorating ideas
Contemporary homes, interior decorating in white
Modern interior decorating ideas for creating comfortable zones above or below the main floor level make living spaces defined, unique and luxurious.
Black and white bedroom decorating, red curtains and cushions
Unusual and expressive, these modern interior design ideas bring many interesting options for creating new layouts for contemporary homes and apartments.
Dining room decorating ideas, Ottawa collection of stylish home furnishings
Contemporary home in Los Altos Hills, modern interior decorating ideas
Modern interior decorating from Ukrainian designers reflects the yuthful character and contemporary lifestyle of young professionals for whom this creative aparttment ideas are developed.
Red curtain for contemporary interior decorating, black and white color palette with red accents
Young people will appreciate bright and stylish gray-black and white color palette and enjoy bold red color accents that add dynamic to contemporary homes and studio apartments.
Decorating small spaces, apartment ideas from Australian designers
Minimalist interior design style, urban apartment decorating ideas
Interior decorating looks like a contemporary cafe. Inviting and calm, impressive and surprising, rooms are perfect for relaxing evenings after a busy day.
Posted: 02.02.2012 by Decor4all