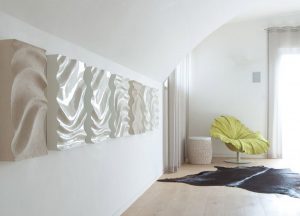 Contemporary interior decorating and white color create beautiful and light modern house design. Sea Shell Residence interiors by Lanciano Design, Israel, are spacious and bright. Unique lighting ideas and lots of glass, gray and white color palette and artistic accents make this modern home interior decorating look exclusive and luxurious.
7,500 square foot modern house is located on the Mediterranean coast. Open and airy modern interior decorating ideas, soft gray color tones, combined with white color, comfortable home furnishings, designer furniture pieces and impressive decorative items that look like modern artwork create gorgeous, welcoming and stylish contemporary house.
Open living space and spaciousness are the main concepts that led designers from Lanciano Design, www.lanciano-design.com/ in this project, combining informal ambient and yet sheer elegance and simplicity of contemporary interior decorating style. Designers choose a white color palette that reflect bright light from the outside into the home interiors.
Contemporary home interior decorating
Living room furniture in gray color and unique modern art pieces add art deco spice to spacious and light contemporary homes
The description of contemporary house design and interior decorating
Designing the interior of the house was hatched by Angela Lanciano and Cher Sela as an 'Haute couture' project based on gathering all information throughout from the beginning of the project. Details are accurately calculated in advance in order to avoid unexpected surprises. This is our main philosophy.
The unconventional layout of the kitchen and the dining area came to our thoughts when designing this space, thinking how friendly it will be to enjoy entertaining family & guests, being able to host and to be present at the same time.
White wall paint, modern artworks and yellow chair in hibiscus flower shape for contemporary interior decorating
The ground floor wrapped in large apertures maintaining a dialog with the outside. Obtaining the open space feeling.
Techno interior design style, contemporary room decorating ideas
Fusion of contemporary minimalist and classic interior decorating styles
We have 'fetish' for bathrooms, there for, our aim is to give the bathrooms area a complete thinking 'out of the box', planning different & original designs.
Gray wall paint and white bedding for contemporary bedroom decorating
The lighting in the house designed by 'Lanciano-Design' has many scenarios, for special effects to be able to change completely the ambient in the house.
Decorating small spaces, apartment ideas from Carr Design Group
Workshop interior decorating ideas
The result: a clear and precise space based on an open flow and is characterized by clean lines, rich but delicate materials and aesthetic original solutions.
Posted: 02.02.2012 by Decor4all