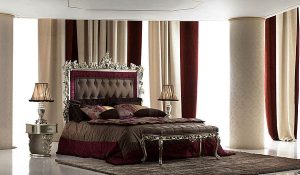 Modern furniture for living room or bedroom by Paolo Lucchetta is impressive, comfortable and luxurious. Baroque decoration is highly ornamental and decorative, adding charming home furnishings and gorgeous furniture decoration details to functional and elegant furniture for living room, bedroom and office interiors.
Modern furniture from Paolo Luccetta continues the traditions of Italian furniture in Baroque style that originated in Italy in the 1600s, bringing unique details and extraordinary designs into palaces and aristocratic homes. Baroque decoration includes twisted columns, large wood carved details, irregular curves, elaborate scrolls and oversize moldings.
Baroque decoration brings luxurious fabrics, gorgeous furniture pieces and inlaid wood floor designs into modern home decor. Golden and silver colors are supported with chic home furnishings in strong color hues such as purple, dark green, deep red and burnt umber for a rich, regal look.
Neo Baroque home decoration, modern chandelier, craft ideas
How to use antiques for modern interior decorating in classic style
Baroque decoration and modern furniture design in Italia style
The Neo Baroque style is theatrical and extravagant also. Home furnishings and furniture decoration elements are intended to startle and electrify. Expensive furniture upholstery fabrics and carved wood details symbolize chic and flaunt wealth.
Modern furniture design with Baroque decoration embrace the 16th – 18th century style in Italy and France. Unique and exclusive modern furniture design and Baroque decoration, inspired by original Baroque style that was created for the European courts and aristocracy, is a way to add elegance, charm and beauty to modern home decor.
Dining room decorating ideas, Neo Baroque dining furniture in Italian style
Modern furniture in Neo Baroque style by Paolo Luccetta, www.paololucchetta.com/ is massive and opulent. Gorgeous textiles are luxurious and expensive. Colors are royally rich and glittery. Decor accessories are exotic and sparkling.
Modern interior design in Louis XV style, uxurious room decorating ideas
New 18th century French decorating ideas, rediscovering French style
Magnificent beds and sofas in Neo Baroque style from Italian designers are the finest modern furniture pieces that add gorgeous Baroque theme to modern home decor.
Modern furniture design in Italian style, Baroque living room furniture from Italian designers
Light patina on the bed headboard and furniture legs, combined with amazing furniture decoration and upholstery fabrics celebrate the integrity of the artistic decisions and add chic of Baroque decoration to interiors.
Modern furniture design in Italian style, Neo Baroque living room furniture for luxurious home decoration
Modern furniture in Neo Baroque style
Posted: 08.03.2012 by Decor4all