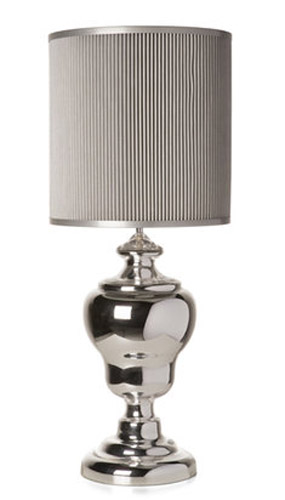 Contemporary lighting fixtures with mirrored lamp shades from MOOOI look futuristic, adding more light and shine to modern home decor and creating bright atmosphere. Mirrored lamp shades make contemporary lighting fixtures look like guests from the future, offering unusual hanging lamps for interiordecorating.
Contemporary lighting fixtures, designed for MOOOI, www.moooi.com/ reflect the company idea of thinking outside the box and creating modern decor items that make eye-catching focal point of interior decorating.
Contemporary lighting fixtures with mirrored lamp shades or bases are a wonderful blend of charming retro decor with modern design.
Modern chandelier with futuristic lamp shade
Chandeliers and pendant lights with mirrored lamp shades double the light in the room. Table lamps with mirrored bases add unique flavor to modern home decor, creating light reflections and making interior decorating more interesting.
Mirrored lamp shades and bases add mysterious grace to lighting designs, creating perfect lighting fixtures for unique interior decorating with futuristic details.
Modern hanging lamp, contemporary lighting fixture
Mirrored lamp shades make this spacecraft lighting design feel surprising and romantic. Modern chandeliers or pendant lights with mirrors lamp shades and table laps with mirrored bases present the gorgeous blend of three different worlds, – light, unique style and beauty.
Home lighting fixtures from Barovier Toso in retro style and fusion styles
Futuristic wall light design, fun home decor ideas
A cylinder-shaped lamp shades cover a contemporary lights, creating sophisticated chandeliers with and sparkling pendants for modern interior decorating. Mirrored lamp shades are sold separately, allowing to use them for decorating existing lighting fixtures and designing very personal room decor.
Contemporary pendant light with futuristic lamp shade, modern lighting design
MOOOI creates contemporary lighting fixtures, home decor accessories, various furniture for modern home decor, that look interesting and attractive, celebrating contemporary design and grabbing the attention.
Neo Baroque home decorations, modern chandelier, craft ideas
Glass tube chandelier Maria, unique home lighting for Art Deco decor
Retro modern lighting design with futuristic flavor, table lamp with mirrored base
Posted: 29.03.2012 by Decor4all