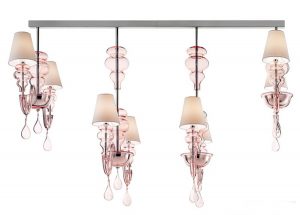 Home lighting fixtures from Barobier&Toso demonstrate new style that make fusion of retro styles and modern lighting design ideas look fresh, innovative and gorgeous. Italian designers offer chandeliers, floor lamps and pendant lights that are unique, elegant, comfortable and very decorative.
Home lighting fixtures from Barovier&Toso combine a rigid metal structure parts or clear wiring parts with blown glass and classic lampshades in various colors, offering amazing lighting designs for modern homes.
Home lighting fixtures from Italian designers are about the tension and coziness, comfort and art, creating an elegant mix of new ad old for celebrating retro styles and developing ideal home lighting fixtures in new fusion styles for all home interiors.
Tuscan home decor ideas from Luigi Cavalli, Itaian style
Glass tube chandelier Maria, unique home lighting for Art Deco decor
Modern chandelier in fusion style
Unique chandelier in fusion style, home lighting fixtures from Italian designers
Home lighting fixtures, – modern chandeliers, floor lamps and pendant lights are creative and artistic, bringing Italian charm into room decor and filling your home with the beauty and splendor of Venice, giving a unique opportunity to add eclectic flavor to your rooms.
Lighting fixtures from Barovier&Toso, www.barovier.com/ are very decorative, interesting and pleasant. The Riga Mena technique, used for creating elements of these elegant hanging lamps, make lighting fixtures look graceful.
Modern chandelier in retro style
Modern chandelier with colored glass parts, unique lighting design in Italian style
Many lighting fixtures are designed in retro styles. Hanging lamps in fushion styles demonstrate elegance, evoking times past.
Neo Baroque home decorations, modern chandelier, craft ideas
ARCO floor lamps, room decorating ideas
Chrome metal details, clear plastic wiring and over-size shades, available in many different colors, add versatility to modern lighting fixtures and make them suitable for any interior style.
Home lighting fixtures from Barovier&Toso
Posted: 21.03.2012 by Decor4all