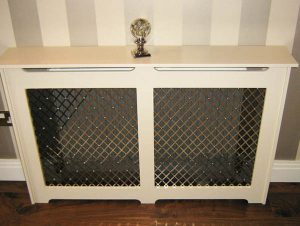 Contemporary wall heaters and retro style radiators are functional room decor items and stylish home decorations. Made of solid wood or wooden products covers for decorating old room heaters are useful decorative accessories that  make the heating source designs safe, soft and pleasant to touch.
Covers for decorating old room heater look gorgeous with wood furniture, offer beautiful shelves for window still or wall decorating with picture frames, candles and vases, convenient storage spaces for small items and an opportunity to create a focal point of interior decorating.
Wooden covers for wall heaters are a way to add unique design, warm texture and your favorite decorating color to room decor. Painting wall heater covers neutral or bright tones give a new life to old wall heaters and harmoniously blends room heaters with interior decorating.
Black panel wall heater, wall decorating with contemporary room heaters
Contemporary room heaters and retro style radiators, painted and decorated with modern patterns, look like modern artworks, creating sophisticated home interiors. Heater covers made of plastic, wood or metal transform room decor, adding personal details to interior decorating.
Wooden covers for retro style radiators and old room heaters look natural, beautiful and charming. Exclusive handmade carving or simple geometric designs turn heater covers into attractive, functional and decorative accessories that add the charm of retro decor to modern interiors and wall decorating.
Wooden cover for old wall heater with a shelg, retro style wall decorating ideas
Heater covers are available in various sizes and designs. DIY project for making unique covers for wall heaters and radiators is a nice way to add a personal touch to your room decor.
10 modern wall decorating ideas with fabric
Recycling old suitcases for wall shelves, retro home decor ideas
The collection of wooden covers for room heaters are inspiring, offering creative ideas for decorating wall heaters with covers that add charming details to retro decor.
Room heaters and home decorating ideas, modern heater cover
Every type of room heaters create a specific mood in the room. Contemporary wall heaters are elegant and impressive. Retro style radiators add a unique flavor of retro decor to modern interior decorating. Handmade covers for old wall heaters refresh the way a room looks and feels, and add attractive shelves for wall decorating.
Beautiful wall decorating ideas for kitchen or entryway, simple crafts
Fine vintage furniture and decorative accessories for retro decor
Posted: 27.03.2012 by Decor4all