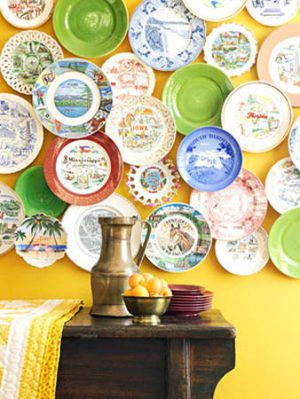 Decorative plates transform empty walls into lovely displays, adding charming  accents, beautiful designs and color to rooms. If you have old or extra mix matched plates, the collage made of white plates or ceramic plates in various colors is a nice idea for decorating a large wall that is empty and boring.
Painting decorative plates or using kids artworks are great wall decorating ideas. Displaying ceramic plates on an empty wall is a fun idea, that save your money on interior decorating. A collage, created with various plates can be changed, adding a fresh touch to your room decor.
Pleasant decoration patterns and creative ways of decorating a large wall with plates make your room decor truly unique and impressive. Using extra plates or buying cheap plates and decorating them with your favorite patterns and colors are a fun DIY project that adds more beauty to your wall decor.
Decorative plate paintings, wall decoration ideas from Molly Hatch
Playful kids plates, wonderful gift ideas for kids
Ceramic plates for decorating empty walls
Wall collage in vintage style made with ceramic plates in various colors
Decorative plates can be brought from thrift or dollar stores, discount stores and yard sales. Decluttering your home helps to find old plates that can be used for decorating empty walls also. Buying white plates and decorating them with various designs are another alternative.
Decorating empty walls with plates adds more interest and color to your home without spending lots of money on wall decorations. Plates are wonderful items for creating attractive collections and collages.
Painting ideas for ceramic plates and empty wall decoration
The most remarkable features of decorating a large wall with plates are the flexibility and versatility.  You have the freedom to choose your favorite decoration patterns and color combinations for decorating empty walls.
Celestial serving bowls, modern tableware sets
Decorating with juju hats, modern wall decor ideas
Decorative plates can be used for creating collages in any room – living room and dining room, kitchen and guest room, master bedroom and hallway. Ceramic plates with attractive decoration patterns look stunning on empty walls.
White plates in various sizes for decorating a large wall in the living room
Painted decorative plates can be used for designing an amazing headboard in the bedroom or decorating in an arch of the entry way or empty walls spaces above the windows and doors.
Bird inspired wall decoration ideas for kids
10 modern simple wall decoration ideas with fabric
A color palette is an important element of stylish and elegant decorating a large wall with plates. Black and white decorating color theme or Victorian theme are great for living rooms in classic style. Bright decoration patterns will add fun to kitchen and dining room decor.
White plates for bedroom wall decoration
Creative collages made with randomly selected plates that are decorated with various designs in different styles add surprising accents to wall decoration, creating interesting room decor.

Posted: 09.05.2012 by Decor4all