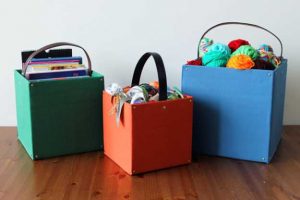 Upholstered storage boxes are wonderful diy projects that help reuse and recycle cardboard boxes, and personalize room decor with handmade designs and favorite color combinations. Storage boxes are available on the market in a wide range of designs, sizes, types, colors and shapes, but your own upholstered boxes and totes are beautiful and cheap home decorations that bring lots of personality into your home interiors.
Decorated with bright fabrics, these colorful storage boxes and totes can adorn storage units and shelves. They look beautiful under beds and tables, making kids rooms, home offices and craft room decor look more organized, neat and stylish.
Here is a tutorial for making diy upholstered storage boxes which are uniquely designed to serve as attractive and colorful storage totes while decorating your rooms with rich colors. Upholstered storage boxes can be created in one color or with different fabrics. Mixing fabric textures, colors, designs and fabric prints add even more interest and whimsical flare to modern room decor.
Making upholstered storage boxes with handles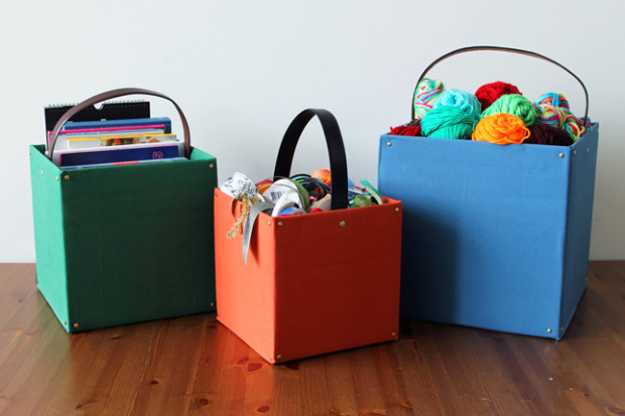 You can create upholstered storage boxes in various sizes also, just make sure you have large enough fabric pieces to cover the sides and the bottom of each cardboard box. Ensure the fabric is pulled tightly to give the storage box a nice flat finish and strength to hold its shape when it is filled up with soft toys, yarn balls or kids socks.
Storage and home organization ideas, especially the bright and creative ones, keep things in order, help declutter your home interiors and decorate your rooms in style. Making these storage boxes and totes saves you money on new containers and offers quick and simple diy projects and recycle crafts for interior decorating that even young kids can enjoy.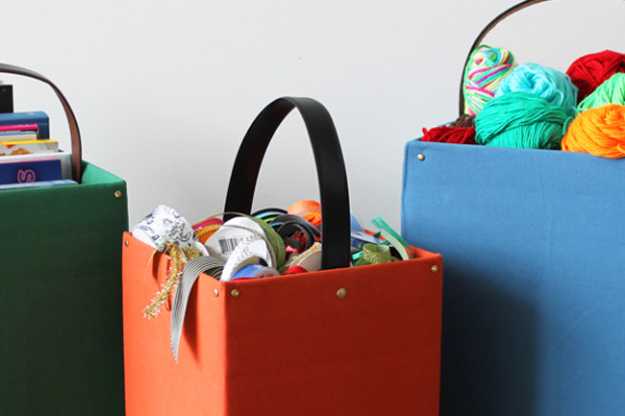 Bright upholstery fabrics turn lacking interest cardboard boxes into great decor accessories. Check this simple and clever interior decorating idea out and get inspired for creating unique storage boxes for organizing and decorating your home.
Creative home storage ideas
40 handbag storage solutions and home organizers for small spaces
Beautiful room decorating ideas, kitchen, bathroom or entryway storage
30 window seat decor ideas adding functional appeal to interior decorating
How to make colorful totes
Posted: 29.04.2013 by Decor4all