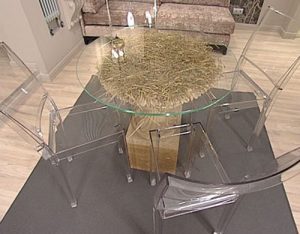 Glass top table design from an interior designer Victoria Kolos is simple to make, eco friendly and attractive. Interesting DIY projects for making furniture pieces are a nice way to add personal accents to room decorating ideas and create character that highlights elegant and stylish eco friendly home decor.
You should not spend a lot of money, buying unique furniture pieces to refresh your living room or dining room decorating. Glass top table, made with glass and hay look unusual and beautiful, offering a one-of-a-kind furniture piece for modern homes.
Coffee table or dining table, made of cast iron or manmade stone flower urn, hay and glass are excellent for eco friendly living room or dining room decorating.
Glass top dining table design and hay, modern eco friendly dining room decorating ideas
The base can be made of wood, stone or metal. Glass top and hay make coffee table or dining table look impressive and creative.
Wood and metal are natural materials, and manmade stone materials that do not contain harmful substances, are perfect for designing indoor furniture pieces.
Dining table design with a base made of a flower urn
Light warm colors of the base and shine of glass bring light and charm into living room or dining room decorating, creating unique and delicate, eco friendly and modern home decor.
Eco friendly table decorations and centerpieces
 Modern wallpapers with leaves, eco friendly style home decor
The cube block, made of wood or stone like material and used with a flower urn for creating the dining table base, makes a table stable and solid. The cube rock is good for a dining table in the room with soft carpeting.
Hay for coffee table or dining table design, unusual and unique living room or dining room decorating ideas
A nice vase or a flower urn can be used alone for acreating a glass top coffee table for your living room decorating. Hay and glass, combined with neutral and warm colors of  wood, metal or stone materials create an unusual table design that gives a unique, welcoming and friendly look to living room or dining room decorating.
Unusual flower arrangements, craft ideas for wall decoration
Modern dining chair covers for fresh room decor
A smaller vase or a flower urn and hay can be used for a glass top table decorating also. Hay is one of nice ways to add a piece of nature to living room or dining room decor. Modern transparent plastic chairs work well with this table design with a unique base, decorated with hay, emphasizing its unique and eco friendly decorating ideas.
Posted: 16.01.2012 by Decor4all