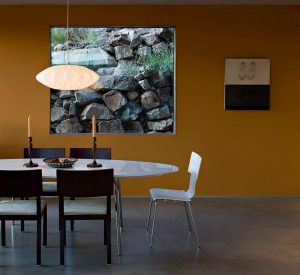 The modern house design from will bruder+PARTNERS is a contemporary home which features unique architecture and elegant interior design. Natural materials, neutral and warm room colors, inspired by the desert landscape, create a unique, artistic and graceful contemporary home.
This comfortable, airy and spacious modern house design from Will Bruder+PARTNERS LTD, www.willbruder.com/ is 4,440 square foot home, located in Paradise Valley, Arizona, USA. Surrounded by rocks and sand, the modern house with large windows is excellent for relaxation and stree-free lifestyle.
Weathered steel and cooper, used for this two story house design, a large pool, dining room and kitchen windows with the view of rocks, cork and concrete floors, neutral and warm room colors, translucent glass walls, large windows and striking combination of cherry wood and stainless steel create modern house design with comfortable and artistic home interiors.
Urban Cabin, country home decorating ideas inspired by Tarsila paintings
Airy contemporary interior design and decor, Hawkesbury Residence in New Zealand
Elegant and spacious interior design and decor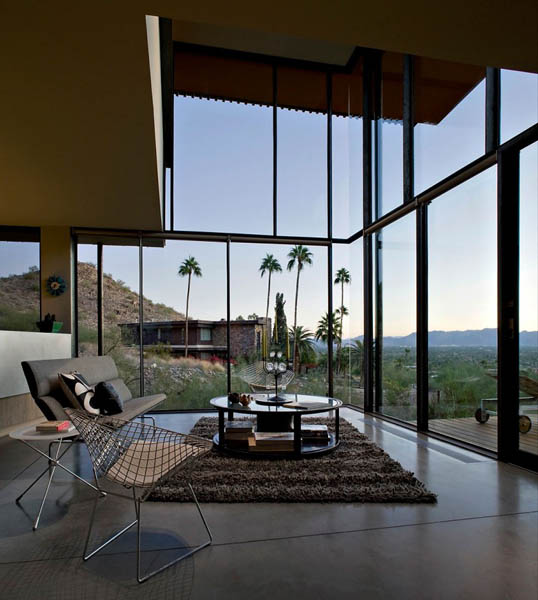 Contemporary furniture and decor accessories, designer lighting fixtures and wall decor add elegance to spacious and airy interior design. Wood and rich yellow color make simple interior design and decor look warm and welcoming.
Modern house design description from the architects
This house is designed as a vessel of personal discovery for two real estate professionals with an educated passion for modern architecture and their two sons. Gracefully embracing the topographic fold of a desert wash, the house focuses on the northeasterly view of the McDowell Mountains in the distance. A mysterious refined dark object in its rugged natural landscape, the house responds to the owners' desire for a place of quiet refection.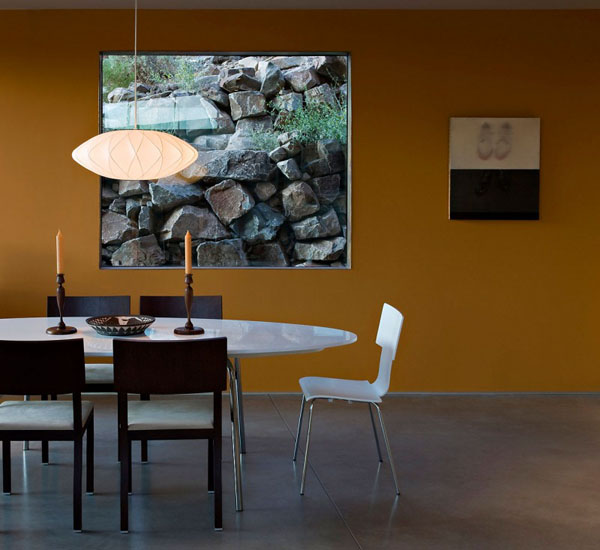 The two story structure, with its simple shed roof and deep overhangs, the house is a sculptural form of weathered steel and copper. A large weathered steel vessel for swimming emerges from the natural desert adjacent to a shaded raised gravel terrace.
Entry, office and bedrooms, are on the upper level with the primary living and dining experience, a media / music chamber and potter's studio tucked beneath. Cork and concrete floors, wall planes of translucent glass, and cabinets of cherry and stainless steel articulate the interiors.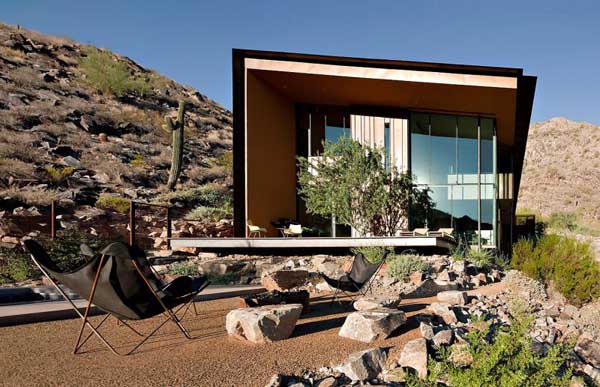 The upper level entry and passage are conceived as galleries for the owners' art collection. The stair down to the collective living spaces plays against the subtle drama of the angled south façade, to draw you to the desert beyond where the double height living room takes you to the sky.
Yellow color in interior decorating
Yellow-red Tuscan colors, bedroom decorating ideas
Light gray and yellow color scheme, calm fall decorating ideas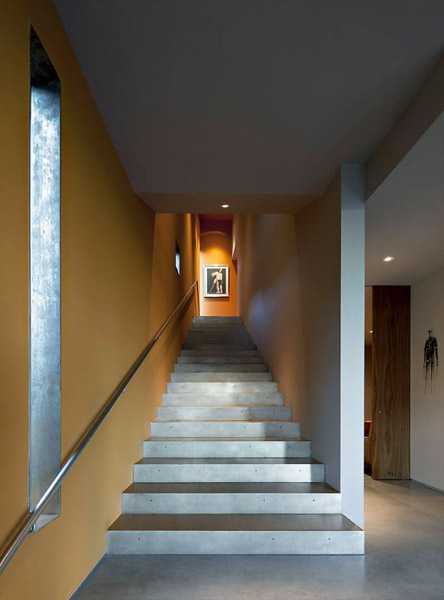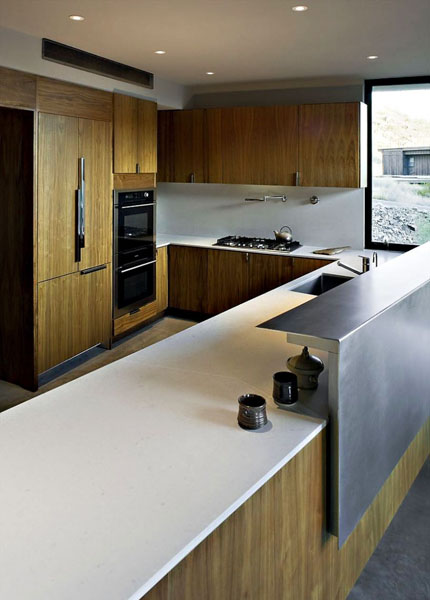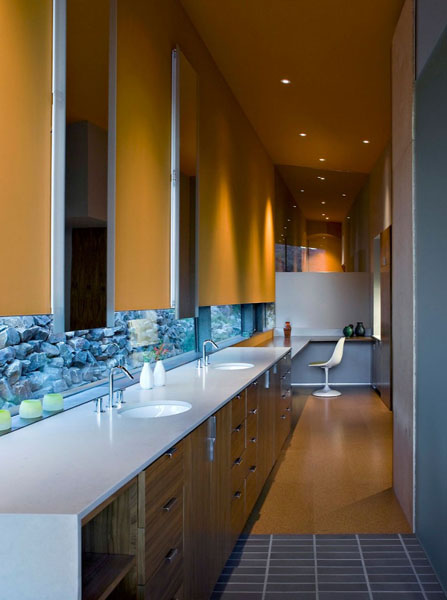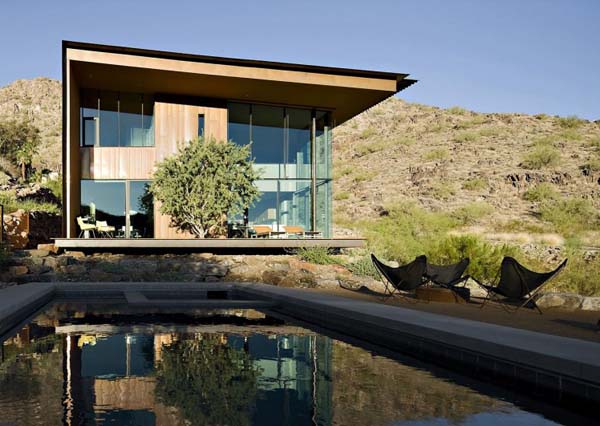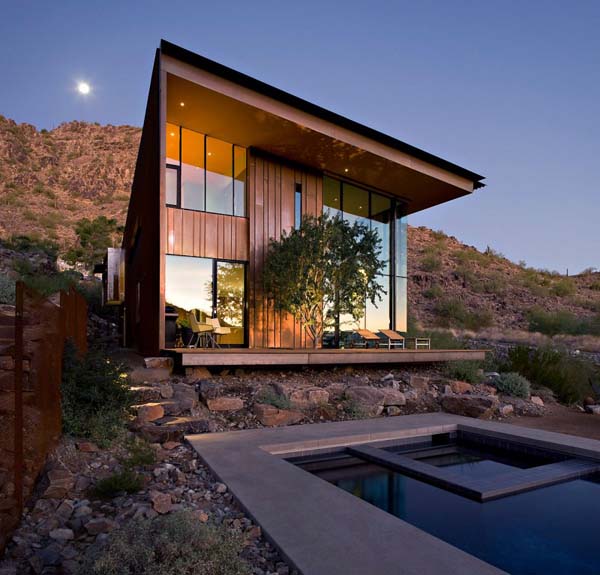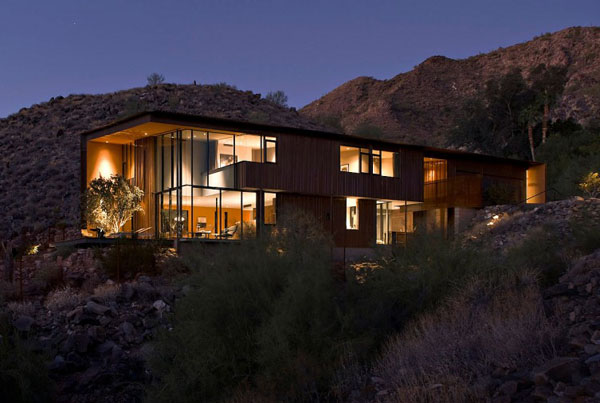 Posted: 10.11.2013 by Decor4all