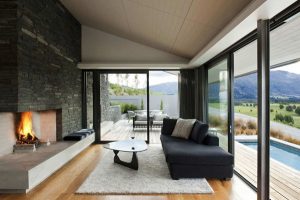 Spacious contemporary interior decorating ideas emphasize beautiful architectural features of this new house design, completed in 2011. Wooden ceiling, floor and walls, simple and elegant wood furniture and impressive lighting fixtures in airy home interiors make Hawkesbury Residence, designed by Marmol Radziner, look welcoming, pleasant and stylish.
Three bedroom house design from Los Angeles architectural design studio Marmol Radziner, www.marmol-radziner.com/ is a comfortable contemporary home, located in New Zealand. Spacious and breezy, comfortable and modern interior decorating ideas enhanced with bright light from large windows and a spectacular veiw.
Warm wood color tones vary from light milky shades to dark chocolate, creating attractive contrasts. Black and white home furnishings and white lighting fixtures add gorgeous accents to inspiring, attractive and modern interior decorating ideas.
Contemporary house design with large windows and spectacular view
Spacious and airy interior decorating
Beautiful dark gray stone fireplace wall and elegant contemporary sofa, combined with light ceiling design, white floor carpet and triangular glass top coffee table create spacious interior decorating that looks interesting and inviting.
Large windows and simple home furnishings, decorative fabrics and textiles in soft white color and large unique lighting fixtures in contemporary style make home interiors brignt and unusual, attractive and stylish.
Contemporary living room furniture and home furnishings in black and white colors
Small beautiful details, eye-catching decorating fabrics prints, comfortable cushions and light wall paint colors make interior decorating very comfortable and interesting, offering convenient storage, gorgeous decorating accents and relaxing atmosphere.
Contemporary homes, interior deciorating in white color
Workshop interior trend and interior decorating color combination
House design description
With distant views of alpine peaks, the hillside  site overlooks rolling farmland. The site faces north, directly into the  blazing sun of the southern hemisphere. Strict agency requirements limited both  the size and form of the home in relation to the slope. The climate is one of  extremes with very hot summers and freezing cold winters.
Simple and elegant contemporary home furnishings, wooden chairs and log-like coffee table
The approach to building on this barren hillside was  to merge with the slope, rather than to stick out from it. In response to the  climactic extremes, a distinctive roof form protects the home from the sun with  generous roof overhangs.
3 story penthouse with nautical decor, luxurious contemporary homes
Decorating small spaces, contemporary apartment ideas
Inspired by the  form of the hillside, the roof is shaped like an upside down check mark. A long,  thin footprint allows for views of the mountains from every room. Entry is  through the side of the house with circulation along the back wall.  Upon entering the rooms, the strong  horizontals of the roof and deck frame the view.
Contemporary living room with wooden furniture and unique white lighting fixture
The massing consists of two volumes, public and  private, that are linked by a staircase.   The first volume contains the "great room" including the kitchen, living  room and indoor/outdoor dining rooms. At the back of the great room, a wood  wall conceals the study, bathrooms, refrigerator and ladder access to a  sleeping loft. Sliding glass doors open to the pool and exterior lounge area.
Techno interior design style, contemporary interior decorating ideas
Fusion of contemporary minimalist and classic interior decorating styles
A  retaining wall,  constructed of a local stone called Gibbston Valley Schist, runs from the living  room to the exterior patio and incorporates an outdoor fireplace and benches. The  second volume is the private wing containing the master suite and children's  rooms.
Contemporary kitchen design with wooden furniture and cabinets
Marmol Radziner is the design architect for this  three bedroom-home at the base of a windswept slope in the Wanaka Valley in New  Zealand.  HMA Architects of Wellington,  New Zealand is the executive architect and coordinated the project locally.
Posted: 04.02.2012 by Decor4all