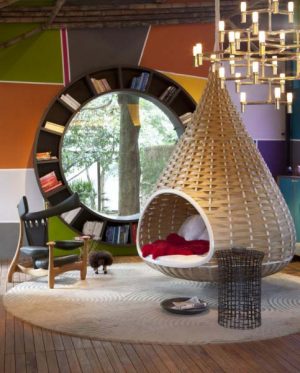 Urban Cabin is a small home renovating and interior decorating project from the Portuguese architectural studio Fabio Galeazzo, which turned an abandoned country house into bright and stylish contemporary home. Unique modernistic design and colorful exterior and interior decorating ideas are inspired by bright artworks by Tarsila do Amaral, the Brazilian artist.
Creative home redesign, exterior and interior decorating ideas, developed by Fabio Galeazzo studio, www.fabiogaleazzo.com.br/ blend modern approach with country style charm. Urban Cabin is a small house that offer contemporary level of comfort and bright interior decorating ideas for modern lifestyle.
Tarsila do Amaral, (1886 – 1973) was born in Capivari, Brasil. She is known simply as Tarsila and considered to be one of the leading Latin American modernist artists, described as the painter who best achieved Brazilian aspirations for nationalistic expression in a modern style.
painting by Brasilian modernist artist
The old house structure was strengthen with beams, frames and columns, made of traditional material, giant bamboo sticks. Dark wood floor made of a local natural materials add an exotic flavor to modern exterior and interior decorating.
Dark wood and granite, bamboo and colorful fabrics blend modern and traditional interior decorating ideas, universally appealing designs with local charm.
Country house design, bright color for decorating house exterior
Bright walls make exterior and interior decorating look artistic, transforming the old house into unique, interesting and impressive piece of modern art. Geometric patterns and stripes, asymmetrical shapes and the wide variety of bright colors reflect paintings of the modernist artist Tarcila do Amaral, that represented Brazilian modernism.
Moroccan furniture, decorating fabrics and materials for Moroccan decor
Egyptian interior style, modern interior decorating ideas
This amazing house design and interior decorating offer various combinations of bright colors. Exterior and interior decor add visual interest to functional house design. Shelves around the window look gorgeous, blending the functionality and style, bringing the attention to the window and inviting the nature inside.
UNique shelves around the windos and hanging bed
Large hanging bed adds an eye catching design to interior decorating, bringing traditional materials and bird nest-like design into the room. Designer furniture, like Chifruda chair by Sergio Rodrigues, 2-in-1 dining table from Campana Brothers and simple wooden furniture pieces that are made of wood and painted bright colors, create unusual, interesting and bright country home decor in modern style.
Light interior decorating ideas, country home decor style
Balinese home decor, tropical theme in Asian interior decorating
Urban Cabin is a unique project, that blends contemporary technology and modern art with traditional house design and local exterior and interior decorating ideas. Urban Cabin is a youthful and dynamic house design project that creates fresh, cheerful and optimistic exterior and interior decorating.
Striped painting ideas, colorful interior decorating
Description from the designers
In an old abandoned house were used retrofit construction techniques. The existing structure couldn't handle the heavy load and was complemented by a sustainable framework of giant bamboo beams and columns treated in autoclaves, the roof received green thermal tiles.
On the floor it was used certificated management timber and some exotic brown granite as well as some walls and ceiling. In order to counter the whole structure and highlight the house amid the dense vegetation the interior and exterior walls were treated as a state of art and received several irregular shapes in different colors inspired in the universe of the modernist painter Tarsila do Amaral.
Outside, a stretch nautical fabric shades the area of the car and a great counter with tiles of different patterns glad the barbecue area which has communication with the swivel kitchen, allowing several combinations between internal and external area.
Striped pattern in bright colors for interior decorating, bright house exterior and interior decor
Inside, with the aim of enhance the view and increase communication between internal and external area a large shelf built in a circular shape frames the landscape. In the decoration design furniture as the giant bed-shaped nest, the "Chifruda" chair from the designer Sergio Rodrigues, the dinner table,"2 in 1″ from the designers Campana brothers and Scandinavian furniture fit perfect on the rustic structure.
The Shack is a contemporary version of housing that brings back the idea of one space living, matching technology and design proposing a new young way of living.
Country house exterior and interior decorating details
Posted: 16.02.2012 by Decor4all