Warm colors make bedroom decorating ideas feel cozy. Moroccan furniture and decor accessories, yellow, orange and red wall paint colors and color schemes, used for bedroom decorating in Moroccan style, bring amazing color accents, inspired by African desert sunsets and warmth of Arabian nights.
Hot and sensual exotic Moroccan decor is one of popular interior design trends. It was not difficult for beautiful traditional and stylised modern bedroom decorating ideas in warm colors, inspired by unique and captivating Moroccan interior decorating catch people s hearts. Moroccan furniture and decor accessories gained tremendous popularity among Western people, especially living in northern countries.
Outstanding artisanship of Moroccan furniture, decor accessories and Moroccan decorations for walls and ceiling, rich warm yellow-orange and red bedroom colors, elaborate motifs and unique Moroccan decoration ideas, impressive luxurious decorative fabrics and textiles add stunning beauty and joy to modern bedroom decorating ideas, creating magnificent room decor and magic African atmosphere.
Yellow-red Tuscan colors, bedroom decorating ideas
Modern interior trends, decorative fabrics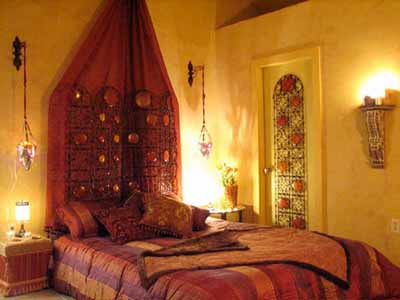 Exquisite craftsmanship of Moroccan decorations, crafty Moroccan bedroom furniture,, especially Moroccan beds and bed headboards, handmade decorative fabrics, leather and metal crafts, inviting warm yellow, orange and red colors and welcoming interior design ideas make modern bedroom design in Moroccan style feel not only comfortable, but luxurious also.
Moroccan bedroom decorating ideas
Fusion interior decorating style, room decorating ideas
1. Select warm bedroom colors, yellow, orange or red paint colors and analogous color combinations, inspired by Middle Eastern and Mediterranean spices. Saffron golden, sunset orange and cinnamon red paint colors offer inviting bedroom decorating ideas and bright interior design in Moroccan style.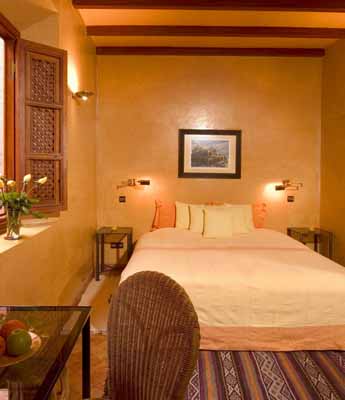 2. Select lighter paint color tones for the ceiling to create harmonious bedroom design, emphasizing rich African decor and colorful Moroccan style.
Color trends, pink paint colors
7 purple-pink interior color schemes
3. Use the same paint color for the ceiling painting or create modern bedroom design with the ceiling painted analogous color.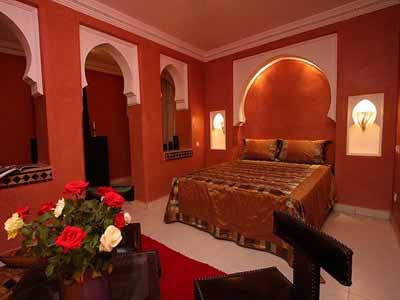 Choosing yellow, orange and red paint color tones in the same color family create wonderful tender contrasts and give a feeling of depth, typical to Moroccan interior decorating, inspired by African deserts landscapes.
Orange paint and accessories, bathroom decorating ideas
4. Hang a rug on the wall or use beautiful Moroccan decorations, made of metal, glass or decorative fabrics for your bedroom decorating, adding ethnic charm and exotic flavor to modern bedroom design.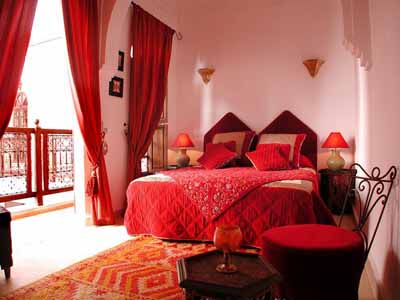 5. Add Moroccan lantern and leather pouffe to bring traditional Moroccan decor accessories into bedroom interior.
6. Bring a large area rug or few small floor rugs and scatter them around the bedroom, creating luxurious feel and warm look of your bedroom decor.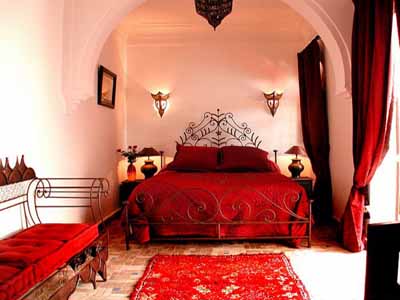 7. Curtain fabric in bright rich solid colors, decorative fabrics with African patterns and simple light fabrics in soft white tones compliment warm bedroom colors, adding more interest to Moroccan style bedroom decorating ideas.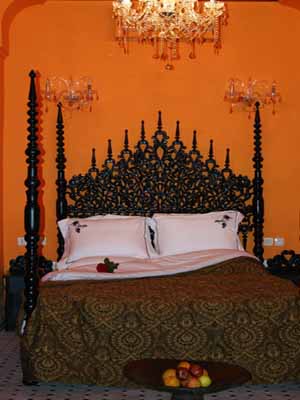 8. Select luxurious decorative fabrics and textiles for your bedroom design in Moroccan style. Look for classy relaxing fabric patterns. Flowers or polka dot fabric patterns are not appropriate for Moroccan interior decorating style.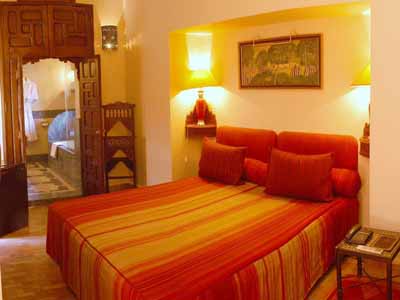 Geometric and graphic fabric patterns, stripes, checks, chevrons, lattice and trellis designs that remind Arabic alphabetical scripts and damask fabrics look beautiful on the bed in the bedroom in Moroccan style.
Exotic ikat patterns, modern interior design trends
9. Choose luxurious textures and home decor fabrics to compliment Moroccan furniture and decor accessories. Create a canopy for a bed in your bedroom or hang decorative fabrics and tapestry Moroccan decorations on the wall.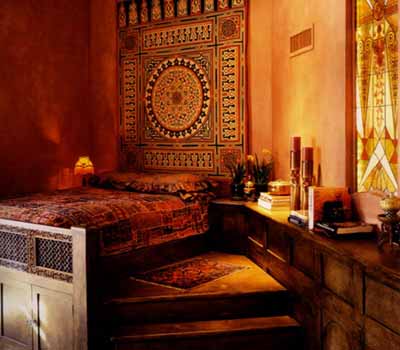 10. Add candles and metal or ceramic candle holders to create glowing soft light, that makes bedroom decorating look charming and peaceful.
11. Bring as many as you can large and small decorative cushions. Create a Moroccan day bed or decorate a bench with a soft cushion and a set of attractive decorative throw and pillows to bring more color and comfort into Moroccan style bedroom design.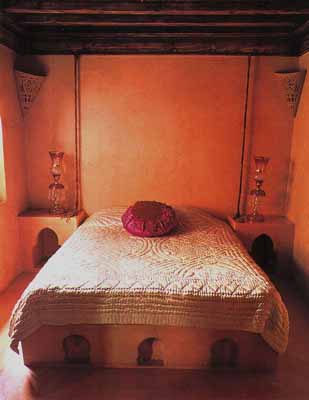 Decorative cushions in bright solid colors or pillows with exotic fabric patterns are a great way to enrich room decor and highlight Moroccan bedroom colors and color combinations.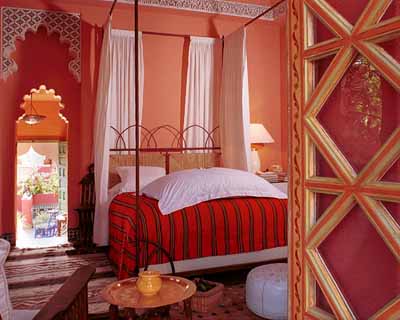 Posted: 18.05.2023 by Decor4all