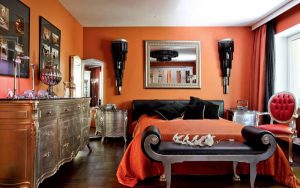 Modern interior decorating trends bring trendy orange color tones and rich dark room colors that feel comfortable and luxurious. Exclusive and beautiful interior decorating ideas from Russian architectural studio AD are inspired by the beauty of the forest at night, creating mysterious shades in moon light.
Dark wall colors are an excellent background for antique looking silver decorations and furniture in classic style, that create unique atmosphere of cozy and warm traditional homes. Dark room colors add mystery and romantic mood to modern interior decorating. Bright orange color tones bring playful and cheerful accents into home decor.
The forest that surrounds this luxurious house is charming. It inspires romantic interior decorating ideas, fairy tale fantasies and adventurous dreams, reflected in creative room color combinations and elegant home furnishings.
Modern interior decorating with dark room colors, iving room design in silver and dark brown color
Dark room colors blend with silver finishes and home decorations that bring the moonlight into the house, enhancing modern interior decorating ideas, exclusive decorations and stylish furniture in classic style.
The living room and music salon look especially inspiring. Dark brown colors, dark chocolate and close to black brown color tones create attractive strong contrasts with light walls. All home decorations and furniture are designed to emphasize strong contrast.
Deep purple upholstery fabric and dark broqn wall paint, modern interior decorating with rich room colors
Shimmering silver, glowing in the dim light make leather furniture in dark brown colors and polished dark surfaces look gorgeous and rich.
New classic style with art deco elements, light room decorating ideas
Modern room decor, traditional home decorating style
Modern interior decorating ideas that include brown colors feel very comfortable, safe, warm and cozy. Brown colors are associated with the nature, earth, peace and traditional homes. Psychologically dark room colors are associated with trust and safety, creating modern interior decorating in classic style that symbolize comfortable chic.
Master bedroom decorating ideas, rich orange wall paint and pink pillows
Bright orange color shades make interior decorating feel modern and optimistic. In the combination with bright orange color shades, dark room colors create beautiful, intimate and elegant atmosphere, celebrating timeless classic style.
Modern interior design in new classic style
How to use antiques for modern interior decorating in classic style
Master bedroom interior decorating look spectacular, passionate and romantic. The combination of terracotta-red walls and accents with black and silver decor items makes the interior feel bright, optimistic and sensual.
Rich orange color shades for modern bathroom decorating
Dark room colors, especially deep purple, dark blue, black and brown colors, selected for home furnishings and combined with shiny silver or golden home decorations do not look depressing and gloomy. Dark room colors can be used to create luxurious and festive atmosphere, when used in moderation.
Dark room colors are  almost invisible and work well for creating a neutral background, emphasizing the beauty of modern bright orange color tones and exclusive furnishings in classic style.
Posted: 31.01.2012 by Decor4all