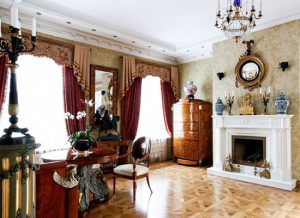 Antiques add chic to interior decorating in classic style. Antique furniture and room decor accessories are a way to accentuate certain architectural features and adorn your home with unique items. Planning is an important part of mastering interior decorating with antique items and creating beautiful, elegant and unique interior decor in classic style.
If your have an antique collection or want to incorporate antique furniture and home decor accessories into existing home furnishings interior decorating tips from experts will help create gorgeous room decor in classic style.
If you dream of entire home decorating with antique furniture, decor accessories and lighting fixtures, helpful and simple interior decorating tips will give you ideas how to place and group your home furnishings.
Tips for interior decorating with antiques
1. Select one of interior decorating themes that support classic decorating style for each room. Avoid decorating a corner of the room in one interior decorating style, while decorating an opposite wall in different decorating style.
2. If you have few antique items and like to target a specific era, emphasize color or texture, or create a curtain mood, group antique items in odd numbers, for striking and classic decorating.
3. Similar items can be paired for symmetrical classic decorating.
4. Large and very decorative antique furniture and room decor accessories, typical for Baroque interior decorating style, look better alone and require some empty space around them, so do not group them in a dark corner.
5. Do not spread small antique decor accessories around the room, group them for creating beautiful displays which adorn interior decorating ideas in classic style.
6. Create antique collections of different antique items and collectibles. A shelf, decorated with antique plates or books looks less impressive and interesting, than a beautiful display with antique books and picture frames, or antique plates and candle holders.
Contemporary floor decor ideas, antique oriental rugs
Old World bathroom decorating ideas
New 18th century French Decorating ideas
Antiques for modern interior decorating in classic style
Luxurious two-story house interior decorating in classic style looks modern, comfortable and elegant with antique furniture and room decor accessories.

Home owners have been collecting antiques for years, and now in a new house the collection brightens up modern interior decorating, giving unique character to home interiors.
Modern room decor, traditional interior decorating style
Rooms on the first floor, – living room, dining room and kitchen create open space interiors which are typical for modern homes.
Interior decorating ideas that include classic columns and plaster moldings, caryatids, supporting columns sculptured in the form of a draped female figure, swans and lion heads add antique charm to modern interior decorating ideas.
10 interior decorating ideas to add chic of Art Deco style
Antique paintings and tapestry, furniture and room decor accessories, combined with modern art, create bright, juicy and modern interior decorating, reinforcing the affect, that unique antique pieces create. Symmetry and proper placement of beautiful furniture and room decor accessories, united by colors, textures and themes, create attractive and elegant modern interior decorating in classic style.
Fusion interior design style, beautiful room decorating ideas
Rooms that are full of unique antique items look modern and spacious, beautiful and comfortable. Expensive antique wooden furniture and room decor accessories that remind of old traditions, create functional home interiors with modern kitchen, bathrooms and beds, adding charming accents to modern interior decorating in classic style.
Fusion of contemporary minimalist and classic interior decorating styles
Posted: 15.11.2011 by Decor4all