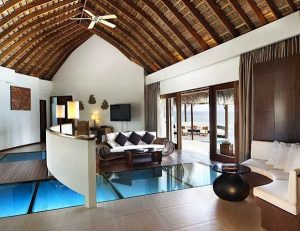 Tropical home decorating ideas are about open spaces that connect interior design with natural surroundings. Inspired by luxurious villas of Maldives W Retreat & Spa, tropical home decorating ideas may include dark wood furniture, combined with white decorative fabrics and bedding, exotic home decorations and attractive garden furniture pieces for inviting outdoor rooms.
Tropical home decorating ideas are about pampering yourself with modern interior design and comfortable furnishings, pleasant views and relazing atmosphere. Inspired by lavish Maldivian living, W Retreat & Spa offer beautiful rooms with dynamic color contrasts, natural wood and decorative fabrics, simple and elegant interior design and comfortable furnishings.
Tropical home decor is a way to create a peaceful place for relaxation after a busy day. Wood and glass, large windows with the view of the garden or water and well designed outdoor rooms make modern homes feel like a resort on a private island.
8 ways to add tropical decor theme and bright color to interior design
Tropical decorating ideas, Kenyan home interiors in white and red colors
Living room design with sliding door and furnishings in white ad brown colors
Dark room colors create cozy interior design. White tones bring freshness and light into modern home interiors. High ceiling with wood beams and large windows, sliding glass doors and bright lighting fixtures create airy and spacious interior design.
Tropical decorating color palette, inspired by the amazing beauty of Maldivian islands, include off white and dark brown colors, turquoise and blue color shades, green and elegant gray tones, which bring more style and a sense of luxury into modern home interiors.
Outdoor furniture and tropical home decorating ideas, hanging sofa bed
White sand beaches and turquoise lagoons, dark tropical nights and breathtaking reefs are great inspirations for interior design and color palette for tropical home decorating.
Tropical home decorating ideas inspired by Sea View Villa interiors
Exotic Balinese decor, Indonesian art and furniture for tropical decorating
Posted: 08.04.2012 by Decor4all