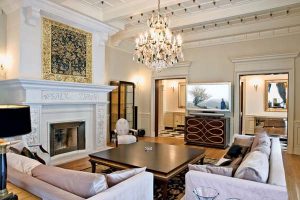 Modern room decorating ideas, inspired by creative fusion of styles, look elegant, traditional and luxurious, offering contemporary comfort and functionality. Interior decorating ideas from architectural studio ABSOLUTE HOUSE celebrate the classic style, enhanced with striking art deco elements.
Traditional style, spiced up with unique decorative accents in art deco style is a nice way to refresh old homes, bringing contemporary flavor, color combinations and spacious interior decorating ideas into rooms.
Luxurious house interior decorating ideas in neo classic style is a beautiful blend of traditional room designs with unique, impressive and artful furniture and decor accessories that look like modern artworks.
Fusion of styles, contemporary minimalist and classic home decorating
Modern room decor, traditional home decorating style
Living room decorating in classic style, large chandelier and tapestry for fireplace wall decorating
Classy designs that remind of antique interior decorating are combined with traditional English interior decorating ideas and brighten up with a modern art deco items and Arabic motifs.
The foyer decorating with a stylized ancient Greek portico and beautiful wrought iron floral patterns blend antique ideas with interior decorating in classic style, adding chic to beautiful entryway and unique staircase designs.
Dining room decorating in classic style, unique dining furniture and neutral color combination
Traditional style and modern interior decorating ideas create the atmosphere of old house design with aristocratic chic and contemporary comfort for modern lifestyle.
Modern interior design in new classic style, beautiful mansion in Beverly Hills
How to use antiques for modern interior decorating in classic style
There are lots of intriguing surprises that add contemporary spirit to luxurious interior decorating in classic style.
Bedroom decorating in classic style, large chandelier, comfortable furniture, golden wall mirror frame and artful table lamps
A gym with a swimming pool, large home office and game room, home theater and spacious master bathroom, decorated with unique designs and artworks, hamam with blue ceiling and unique mosaic tile designs and large indoor pool create luxurious and comfortable modern house design with impressive and rich interior decorating in neo classic style.

Posted: 09.02.2012 by Decor4all