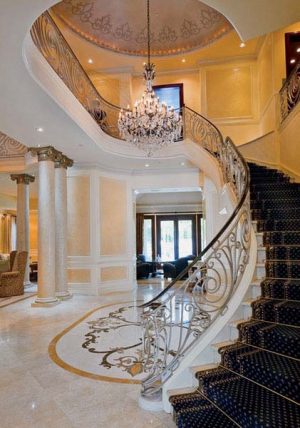 Modern interior design in New Classic style bring high standards and luxurious home decorating ideas that look formal, elegant and exclusive. Designer Ron Dayan created a beautiful house in Beverly Hills, California that celebrates Neo Classic interior design and decorating style, reminding stunning European palaces.
Luxurious interior decorating ideas that were used for designing this beautiful mansion in Beverly Hills fill the house with the spirit of European classicism. Modern interior design and Neo Classic decorating style are combined with contemporary technology, that creates comfortable and functional home interiors with a remotely controlled environment.
The name of the owner of the mansion is not disclosed, but chic and expensive interior design and decorating ideas allow to assume that this mansion is designed for a celebrity.
Top 5 modern interior trends in 2012 home decorating
Modern interior design and decorating ideas in New Classic style, living room design with freplace and crystal chandelier
The American designer Ron Dayan studied interior design in Europe and established Piccadilly Designs, returning to US in 1979 and starting to work for Hollywood clients and doing projects for American and British movies.
Modern interior design ideas created an amazing home that looks like an European palace. The house exterior in  light tones look formal and impressive.
Classic staircase and foyer decorating ideas in New Classic style
Modern interior design and decorating ideas are light and spacious. Light walls, floors and ceilings create striking contrasts with dark door portals, cornices and furnishings, including dark wood furniture, rugs and window drapes fabrics.
Modern room decor, traditional home decorating style
New 18th century french decorating ideas, rediscovering French style
Interior decorating color palette is beautiful and includes deep burgundy, ocher, golden and dark brown colors and cream tones. Room furniture in black and brown colors, combined with luxurious furniture upholstery fabrics and bright lighting fixtures make modern interior design and decorating ideas look chic, classic and expensive.
Dining room decorating in New Classic style, dark wood dining furniture, round table and cabinets, French art and chandelier
Exclusive room decor, unique marble floor tiles on the first floor and parquet upstairs, impressive ceiling design and classic ornaments create amazing interiors, inspired by European palaces. A gorgeous chandelier in the foyer and a staircase with elegant silver-plated handrails increase the effect.
Neo Baroque home decorating style, modern chandelier, craft ideas
Art Nouveau decorating style, beautiful room decor ideas
Italian handmade furniture and unique works by Argentine artists, English carpets and textiles from France are combined for creating exclusive, rich and luxurious interior design.
Beautiful bedroom decorating ideas in New Classic style
The area around is designed in New Classic style also. Formal ceremonial avenue, leading to the main entrance and olive trees planted along the walls, a large outdoor swimming pool, decorated with LED lights that change color every thirty seconds add beautiful accents to modern house design in New Classic style.
House exterior, backyard patio and outdoor pool with LED lights
Photographs by Adam Pergament
Posted: 18.01.2012 by Decor4all