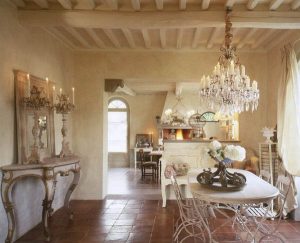 New 18th century French interior design style is inspired by the beauty of charming French interiors in luxurious palaces and the elegance of the 18th century country homes of aristocrats. Fine furniture design in French style, sofas, beds, chairs and console tables, decorated with wood carving and soft natural decorative fabrics, make new 18th century French decorating ideas look romantic, luxurious and seducing.
Solid wood cabinets and mirror frames with decorative ornaments in vintage style add French chic and a unique flavor to modern interior decorating. Striking fireplace design ideas emphasize the uniqueness of classic French decorating style. Dramatic console tables represent luxurious comfort of French interior decorating.
Shiny room decor accessories, made of glass and ceramic, reflect the light from chandeliers with crystal pendants. The soft sound of crystals and classic music blend with the aroma of beautiful roses, adding a final touch to elegant French home decorating ideas.
Modern interior decorating with French chic
French country home decorating ideas from Provence
Neo Baroque home decoration, modern chandelier, craft ideas
Elegant French home interior trend, light room decorating ideas
French interior design style
The 18th century French interior decorating color palette reflects the classis French style and traditional view at French elegance. Light gray, soft cream and natural wood color tones create calm French interiors with a dusty look. Antique looking French furniture design with carved wood ornaments, soft decorative fabrics, painted wood and forged metal create an attractive and luxurious French interior design style that people admire.
Designer furniture, inspired by the 18th century
Emanuela Marchesini,  the interior decorator from Italy, creates beautiful designer furniture in 18th century French style, rediscovering French decorating ideas and adding Italian flavor to new 18th century French interior design. Relaxing, inviting and charming atmosphere of 18th century in her two shops Viareggio and Pietrasanta show her passion for creating beautiful French interiors, inspired by the past.
The young Italian interior decorator trandformed an old house into the romantic retreat, creating cozy and elegant French design ideas for home interiors that look luxurious and charming. Designer furniture, made in the 18th century style, room decor accessories and fireplace design ideas for modern interior decorating, are based on classic French interior design traditions and old technology.
Designer furniture and room decor accessories in French style
Emanuela  develops sketches and drawings of furniture and fireplace design ideas in collaboration with French interior decorating experts, and then small manufacturers of designer furniture in Italy create wonderful sofas, chairs, beds, console table and fireplaces for modern interior decorating in classic French style.
French interior decorating ideas are great for bedrooms. French decorating ideas bring old world charm and romantic mood into modern bedroom interiors. Breezy canopies, soft natural decorative fabrics, light decorating color palette, subtle tones and shapes, charming chandeliers and beautiful flowers, reflected in mirrors in impressive frames, make French interior design feel relaxing and welcoming.
Interior decorating in French style should look unique and personal, Emanuela Marchesini says, – the uniqueness and individuality of French interiors are the main factors for decorating any home with comfortable French chic.
Modern interior decorating styles
Charming bathroom decor, old world bathroom decorating ideas
Warm colors for bedroom decorating in Moroccan style
Charming Scandinavian homes, the essence of Scandinavian interior style
Art Nouveau decorating style, beautiful room decor ideas
Posted: 21.04.2023 by Decor4all