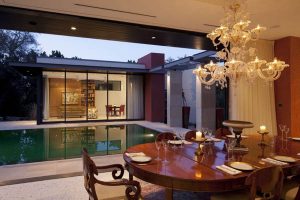 Modern interior design and decor, inspired by homes in Southern France, bright colors and warm decorating materials make this house design by Brian Dillard Architecture truly unique, charming and welcoming, offering a beautiful and comfortable home with architectural interiors and decor reminiscent of French style.
Modern interior design and decor ideas from Brian Dillard Architecture include white oak wood wall paneling, comfortable furniture, gorgeous lighting fixtures made of Murano glass, red color accents and artworks that add an artistic touch to French decor inspired home interiors.
Sliding doors to the terrace with a tiled pool, bright decorating color palette, classic architectural and interior design ideas and functional decor in French style create luxurious and attractive, comfortable and pleasant contemporary home interiors that celebrate French decor and the owner's French legacy.
French country home decorating ideas from Provence
Modern interior design with French chic, exquisite room decorating ideas
Modern interior design and decor with Provence charm for contemporary homes
Contemporary home with decor in French style, house exterior and outdoor pool at night
Large windows and attractive staircase design, airy interior design ideas and decor with Provence flavor, wood wall paneling and light floor color, convenient storage and a huge walk in closet add chic to contemporary home interiors.
Architectural and interior design project description from the architects
Villa M was designed by Brian Dillard Architecture for a client with Southern French roots living in Austin, Texas. The Austin architect wanted to embrace the owner's heritage along with his appreciation for contemporary architecture, classic design, bright colors, and outdoor living.
New 18th century French decor ideas, rediscovering French style
Modern interior design and decor in eclectic style with Parisian chic
The house is organized around a central pool and garden area that is shared by the main house and pool house. Both enjoy large, multi-slide doors which open the spaces completely to the pool during nicer months.
Dining room decorating with Murano glass chandelier and wooden furniture in French style
The red stucco volumes are inspired by the vernacular stucco of Nice, France where the owner is from. The parterre garden, tiled pool, and fountain along a central axis are also reminiscent of French influences.
Luxurious house design by Russian Architects, black and white decor in classic style
Elegant modern house in Arizona, Jarson Residence interior design and decor
Strong design elements including the bright colors and general form of the house are softened by the use of classic, warm materials such as white oak wood paneling, terrazzo floors, and lueders limestone exterior pavers.
Red kitchen cabinets and contemporary island, French decor ideas for contemporary homes
The client's furniture, Murano glass light fixtures and art from the Saint Paul de Vence galleries further serve to further warm the spaces and reinforce the owner's French legacy.
Modern interior design and decor in neo classic style, beautiful mansion in Beverly Hills
Elegant French style, light room decorating ideas
House exterior and interior design details
Posted: 10.03.2012 by Decor4all