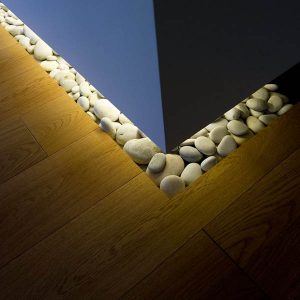 Contemporary apartment ideas from young Russian architect A. Nikolashin, look dynamic and spacious, stylish and creative. Inspired by the charming beach pebbles, he brings the nature inside, adding the natural beauty of beach pebbles, green plants and wood to modern interior design ideas, creating attractive open space in eco style.
The architect selected the contrasting decorating color combination which celebrates light and spaciousness, contemporary style and freedom, making small apartment interiors feel pleasant and unique. Warm wood floor softens up the attractive strong contrasts, making every small room look welcoming and comfortable.
Beautiful apartment ideas from Russian architect Alexey Nikolashin, www.ab-sl.ru/ are inspiring, bringing innovative solutions  into apartment design and creating gorgeous open living space for modern lifestyle. Beach pebbles and indoor plants, sliding glass doors and large mirrors are elegant details that help create airy environment and peaceful mood.
Decorating small spaces, Melbourne apartment ideas from Carr Design Group
10 apartment decorating ideas to add chic of modern Art Deco style
Contemporary living room furniture and Arc floor lamp, unique fireplace design and lighting ideas, small apartment ideas jazzed up by beach pebble theme
The striking white, light gray and creamy white decorating colors, combined with classy black, look energizing and exclusive. Unique lighting designs and artworks add an artistic touch to small rooms.
Functional and elegant small bathroom ideas, sliding glass door and beach pebble decorations add chic to interior design, creating a pleasant space that is comfortable, tranquil and peaceful.
Bedroom decorating ideas, wood floor decoration with green indoor plants and beach stones, spacious modern apartment ideas
There are many takeaways from this inspiring modern apartmment design and small rooms decorating project.
Minimalist interior design style, Urban Apartment decorating ideas
Modern interior design in eclectic style with Parisian chic
Beach stones on the floor, striking contemporary fireplace design, comfortable seating area with an Arc floor lamp, stylish kitchen and dining areas, simple and elegant bedroom decorating, functional and bright small bathroom design are bold, attractive and spacious apartment ideas, spiced up with green indoor plants and beach pebble theme.
Small bathroom ideas, contemporary bathroom design, green indoor plants and beach pebbles for modern apartment decorating
Contemporary apartment ideas in eco style
Posted: 20.02.2012 by Decor4all