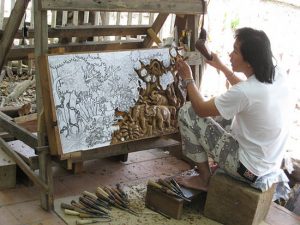 Art Nouveau home decoration, enriched by Indonesian handicraft, is one of unique ideas for those who enjoy ethnic interior decorating and an artistic touch of the Art Nouveau style. Beautiful Indonesian products, furniture, room decor accessories and Indonesian art give a lot of choices for creating impressive Art Nouveau home decoration ideas with exotic flavor and ethnic charm.
Spread on five large islands, Indonesia offers unique home accents and furniture. Indonesian handicrafts blend useful designs with ethnic decorative elements, creating wonderful items, made completely by hand or with simple tools. Bringing Indonesian handicraft and art pieces into your home interiors, selecting comfortable brown colors, exotic wood create striking room decorating ideas. Balinese decor, furniture and home accents help create exotic and personal interior decorating in Art Nouveau style.
The creative design handicraft gives good values to Indonesian furniture and all Indonesian products for home decoration. Indonesia is the largest archipelago country in the world with over 17,000 islands, and each region has a unique flavor. Inspired by traveling to Indonesia, room decorating ideas in Art Nouveau style that include furniture, made of dark exotic wood, Indonesian home accents, traditional decorations and art pieces, look unusual, stunning and stylish.
Natural materials, used for unique Art Nouveau home decoration ideas, enriched by amazing Indonesian handicraft, beautiful fabrics, exotic wood and dark finishes, crafty home accents in comfortable brown and neutral colors create relaxing and soothing interior decorating with exotic flavor of Indonesia and oriental motifs, typical for Balinese decor. Indonesian handicraft and artisans home decorations. from original, made of plant fibers, wood and metal furniture  and room decorating accessories,  to traditional Indonesian art, painting, wall decorations, home accents and famous batik, are excellent inspiration for modern interior decorating ideas in Art Nouveau style.
Stone wall decoration in light neutral or brown colors, oak and teak furniture, window frames and doors add charming ethnic details to modern interior decorating and inspire creative decorating ideas in the Art Nouveau style that reminds luxurious Balinese decor. Dark and light contrasts, various textures, natural materials, combined with geometric designs, create peaceful and romantic atmosphere, adding balance and comfort to impressive and elegant Art Nouveau home decoration ideas.
A large reef aquarium, Indonesian art, Bali decor accessories, unusual wooden furniture design and dark wood beams on the ceiling can add more of exotic details to room decorating ideas, emphasizing the beauty of Bali style homes and uniqueness of Art Nouveau interior style, which is enhanced by ethnic motifs.
Artistic interior decorating styles
Art nouveau decorating style, beautiful room decor ideas
Eclectic interior decorating style
Eclectic style colors, textures and shapes
Bathroom decorating in art deco style
Art Nouveau home decoration ideas with Balinese decor flavor
Master bedroom decor looks luxurious and elegant. A bed headboard is decorated with a material that looks like a crocodile skin. Fur and leather are modern interior decorating ideas that feel warm and cozy, bringing chic natural materials into room decor in Art Nouveau style. Trendy golden colors look great with dark wood wall decoration. Lighting fixtures golden finish adds an elegant touch to black and white bedroom decor with dark wood furniture, wall decorations and moldings. Wall decorative panels, made of exotic teak and handmade wood carved decorations add ethnic interior decorating accents to room decor that feels exclusive.
Unusual spiral staircase creates interesting, organic and smooth lines, typical to Art Nouveau decoration ideas. Stained glass windows fill home interiors with colorful light that strengthens the natural theme of Art Nouveau home decoration. Warm orange and red colors, animal toys and butterfly images that are selected for kids room decorating, add dynamic and playful accents to unusual and stunning Art Nouveau furniture design, creating beautiful, bright and stimulating environment for a child.
Modern interior decorating styles with exotic flavor
Moroccan decorating color schemes
Fusion interior design style, beautiful room decorating ideas
Exotic ikat pattern, modern interior design trends
Posted: 30.10.2011 by Decor4all