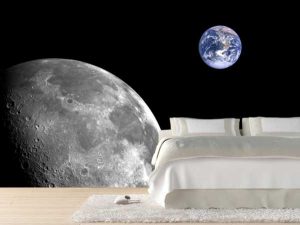 Modern wall decoration ideas are exciting, offering beautiful wallpapers, vinyl stickers and photo wall murals that come in various sizes, colors and themes, and are suitable for any room. Photo artworks and modern wall murals are excellent decorating ideas for those who prefer the high quality and professionally designed look.
Contemporary printing technology allows decorators and homeowners turn personal photographs into beautiful wall decorations. Professional photo wallpaper murals bring fine art prints and amazing natural images and scenes into modern homes.
Here is a wonderful photo wall murals from Eazywallz. There are no size limits. High quality images can be applied to empty walls, closet doors and large furniture, adding exceptional decorative accents to modern home interiors.
Modern wall decorating ideas
Modern wall decor ideas, lace fabric and doily patterns
10 modern wall decoration ideas with fabric
Modern wall murals
Waterfall photo mural for bathroom decorating
Modern wall murals are self-adhesive and reusable. These impressive wall decorating ideas are used for residential and commercial interior decorating, indoor and outdoor projects. Modern wallpaper looks and feels like thin canvas, showing rich, clean and substantial appearance.
People fall in love with photo wall murals. Modern wall decoration seems to add attractive depth to interior decorating, creating pleasant living spaces, enriched by interesting themes. You can find a lot of beautiful wallpapers and photo wall murals that are affordable and allow you to create nature inspired accent walls.
Photo wallpaper prints on kitchen cabinets
Scenic views and outdoors has a natural appeal to humans. The ocean and sky, mountains and forests make people feel refreshed, calm and in harmony with the earth.
Patchwork wall decor ideas, 16 striking accent wall designs
Modern wall decorating with Juju hats
Beautiful wallpapers with inspired by nature designs, modern wall murals with stunning outdoor images, indoor plants, natural materials and relaxing interior decorating colors are elements that help create gorgeous and calming room decor and bring the outdoors in, creating amazing accent walls.
Posted: 08.09.2012 by Decor4all