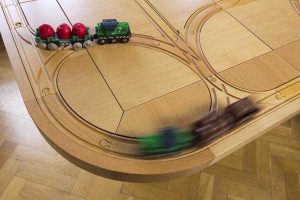 TrackTile table design is a great idea for entertaining your family or guests. Table tiles construct a train track which make transporting food around the table fun for them and for. This unique dining table is a playful blend of handmade wood furniture and transportation theme, which makes dining room look interesting and inviting.
TrackTile table designs can vary, keeping your family and friends amazed and excited before dinner and deserts. Each table design, assembled with wood tiles, is a way to add interest to dining room decorating and prepare guests to enjoy a unique opportunity of eating food delivered by a cute train.
Wood table designs feature railroad track patterns to bring modern entertaining possibilities and explore playful dining ideas.
Playful set of dishes and cups for kids, Train Breakfast set
10 modern dining furniture design trends, dining room decorating
Modern dining table made of wood tiles with railroad tracks for food trains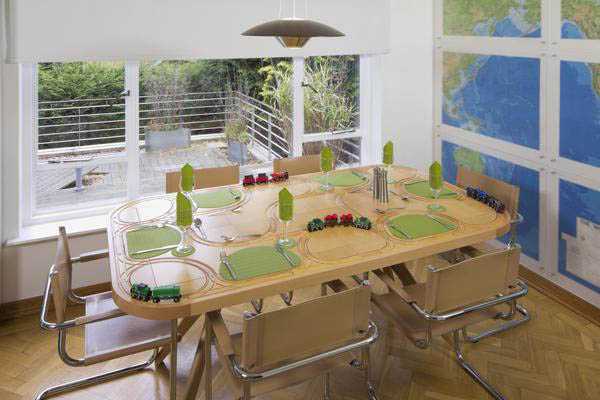 Made from furniture grade veneered ply that don't warp under heat or humidity, unique table design is a nice wood furniture piece for changing mood in your dining room. The TrackTile Tables were spotted on Monkeyzen.
Here is the description of how the tables meet your entertaining needs: All the table designs start with a table base, a tray that accept a selection of reversible square wooden TrackTiles™. Finger holes in each table base allow for easy access to lift out and rotate each wood tile or you can turn all the tiles completely over to form a smooth, plain conventional dining table.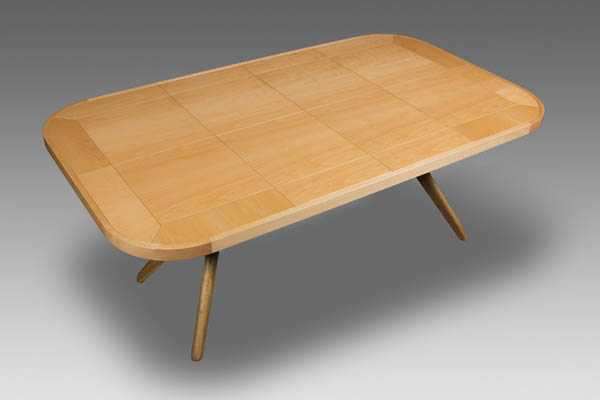 All wood table tiles are inlaid on one side with removable BRIO® track pieces. These wooden tracks guide small motorized trains and their delicious cargo around to each of your dinner party guests.
Posted: 30.08.2012 by Decor4all