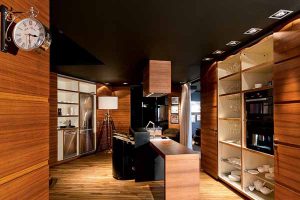 Three-story penthouse, located in Sochi, is an interesting project, developed by a Russian architect Vladislav Zabolotniy. Beautiful three level penthouse in a prestigious apartment building offer luxurious interior decorating and a picturesque panoramic view of the city in the Black Sea region of the Southern part of Russia.
Built-into the floor outdoor pool on the top of a tall building is decorated with black tiles. Glass enclosure allow the pool water surface merge with the sea view. The effect if very powerful, offering luxurious, unforgettable and unique experience.
A large staircase, penetrating all three levels of the penthouse, unite modern home interiors, creating impressive open living space, celebrating the nautical theme and stylish interior decorating ideas.
Nautical decor, contemporary kitchen design inspired by nautical theme
Elegant interior decorating with wood, light and dark colors
Nautical decor theme in penthouse interior design
Hanging from the ceiling white sail fabric for decorating wooden staircase, unique penthouse interior decorating ideas
The third floor is transformed into a luxurious, peaceful and tranquil spa. A part of the pool is covered by a small bridge to allow convenient access to the pool from the kitchen, bathroom and sauna, located on the third floor of the penthouse.
Gilded tiles on the floor and wooden deck, made of water-resistant teak with rubberized inserts, provide safety and create contemporary and pleasant look. Supporting the roof columns are draped with canvas, attractively decorating the space and creating the image of ship sails.
Outdoor furniture for contemporary homes, nautical theme for penthouse decor
Nautical decor theme if very attractive and popular, especially for interior decorating of contemporary homes in coastal communities. Inspired by expensive and luxurious boat, interior decorating ideas reflect the beautiful nautical decor theme that is associated with chic and style.
Nautical theme for kids bedroom decor
Paper Boat Dinnerware sets, nautical theme for party table decoration
Black color, used for this penthouse interior decorating, dark brown color shades and graphite tones make interior decorating feel comfortable, safe and cozy. Metallic black and soft white cream tones create strong contrasts with dark wood and furniture, adding chic to modern interior decorating.
Outdoor pool with glass enclosure and white sail fabric, creative decorating ideas to emphisize the nautical theme
Lots of wood is used for large penthouse interior decorating, which helps create a sense of being in a yaht. Wood furniture, kitchen cabinets, stairs, wooden wall panels and the outdoor deck create warm and peaceful interior decorating.
Contemporary homes, interior decorating in white color
Techno interior design style, contemporary interior decorating ideas
Exotic woods and its rich colors are associated with luxurious and exclusive interior decorating ideas, that create attractive spaces with rich decorating color palette, dark and light room colors.
Black leather sofa and unique ottoman with ethnic decoration patterns, nautical decor ideas with exotic flavor
Italian furniture pieces, used for interior decorating, from Rossi Di Albizzate are very expressive. Solid and artful Italian furniture and decorating accessories, made of expensive wood, add unique personality to contemporary home interiors, emphasizing nautical decor.
Posted: 04.02.2012 by Decor4all