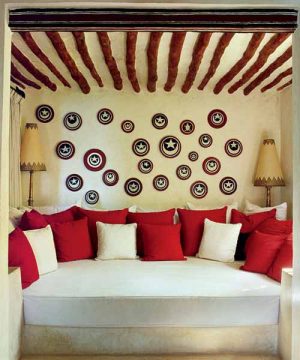 Tropical decorating ideas are charming, airy and bright. Beautiful home interiors from professional decorators in Kenya are inspiring, and comfortable. Tropical theme brings bright white and red color combination and gorgeous flowers, dark wood furniture, ceiling beams and unique wall decorations add African charm to comfortable and welcoming home interiors.
Light wall paint colors, African furniture made of dark wood, red color accents and white furnishings create attractive contrasts that emphasize the bold elegance, romantic charm and striking beauty of tropical decor theme.
Creative use of bright red flowers and decor accessories makes home interiors with dark wood furniture and white walls feel energetic and festive. White and red color combination feels dynamic and energetic, creating romantic mood and pleasant atmosphere in this house.
8 ways to add tropical decor theme and bright color to interior decorating
Top 5 modern interior trends in home decorating
Tropical home decorating ideas
Tropical decorating ideas do not mean that you congest home interiors with bright flowers and pictures, colorful furniture pieces or rugs. Minimal is beautiful and friendly to the eye.
Decorative pillows, vases and a flower bouquet is all you need for modern interior decorating that is inspired by the tropical theme.
Tropical decorating ideas are versatile. Different people have different tastes and color preferences. The tropical theme offers various ideas for modern interior decorating with bright accents, including white and red color combinations.
20 tropical decorating ideas, charm of Hawaiian decor theme
Balinese home decor, tropical theme in Asian interior decorating
Wall paint colors
Light colors are the best for tropical decorating. Very light color shades of blue, yellow, pink, purple and greens make tropical theme decor look brighter and more impressive, reflecting more light on the home decor.
Colorful decor accessories create strong contrasts with light painted walls and offer variations that make interior decorating more attractive and interesting. Unique  African decorations on walls, carved wood ornaments, lamps, vases and exciting decorating fabrics in white and red colors bring energy and optimism into home interiors.
White and red colors for home decorating
Posted: 09.11.2023 by Decor4all