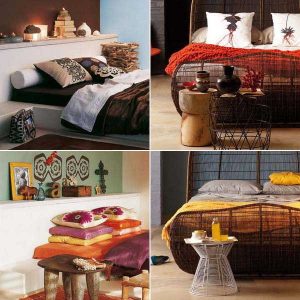 Modern bedroom decorating ideas from Plascon, based in Cape Town, South Africa, suggest to add exotic South African decorating accents to your home for fresh bedroom design with exotic flavor. 16 bold and modern bedroom decorating ideas will help create unique bedroom decor with colorful African designs.
Bright interior design color shades and stylish bedroom decorating ideas are inspired by the South African gem Cape Town, the city, located in one of the most beautiful regions in the world. South African designs will bring the natural beauty and unique character of dramatic African home decoration style, mysterious African decorations and brave color schemes into your modern bedroom design.
Unusual and surprising African decorating ideas, beautiful African bed designs and rich interior design color schemes are attractive and inspiring, creating comfortable and expressive modern bedroom designs and a universal appeal. The amalgamation of descendants of German, Indonesian, French, Dutch and British settlers, the local Bushman and Hottentot tribes and the Bantu tribes from the north created the unique South African home decoration style, that is bright and optimistic, simple and elegant.
Modern bedroom decorating ideas
Modern bedding sets and bedroom colors, patterns and color trends 2012
Bright bedroom wall decoration with modern wallpaper
11+ ways to add green color to bedroom decor
Bedroom ideas for African home decoration
Modern bedroom decorating ideas from South Africa, the  decor style and interior design color schemes are dynamic and creative. Unique African bed designs, bright wall paint colors, cheerful South African home decoration style, romantic bedroom decorating ideas and pictures may inspire you for creating exotic bedroom decor that will look unusual, but warm and welcoming.
Looking for interior decorating accessories and furniture that remind African designs, and selecting similar interior design color schemes will help create comfortable modern bedroom in adventurous, romantic and mysterious African decor style. It is not too complicated or expensive.
4 bedroom decorating themes for exotic African decoration
Professional interior designer and decorators from South Africa creates four beautiful bedroom decorating themes and show how to combine modern interior design color tones, furniture and home decor fabrics to bring the beauty and charm of African decor into your bedroom design.
Fairy tale
Light home decorating fabrics that flow down from the ceiling and surround the African bed and your favorite, brought from Africa, decor accessories are excellent for creating charming bedroom design for an African princess.
Bedroom decorating ideas will feel warm, soft and comfortable, bringing modern interior design color schemes with earthy tones and pleasant cotton curtain fabric into your bedroom design. Lace and rich color schemes with silver decorating accents will add sunshine to colorful African designs bringing unique flavor of African home decoration style into your bedroom.

Nomads retreat
African bed, made of wood or wicker in dark brown colors, small tables and African decorations on the wall, beautiful interior design color schemes that include, sunset red, deep ocean blue, early morning purple haze, warm sand and golden yellow color tones, offer adventurous bedroom decorating ideas, inspired by mysterious Africa and lifestyle of first colonists.
Nature inspired African decoration
Exotic countries offer wonderful interior decorating ideas, inspired by its natural beauty. African decorations for walls, art works and African furniture, especially stools Tam Tam, similar to a drum are great for adding natural decorating accents and creating modern bedroom decor in eco style.
Modern wallpaper patterns, trees and branches
Bathroom decorating, nature inspired brown green color scheme
Bright sunny yellow and golden yellow color shades of African sun add bright and cheerful atmosphere to modern bedroom decorating ideas. Wooden African furniture, large leaves of indoor plants that are associated with an exotic fan, add charming flavor to gorgeous modern bedroom designs.
Color tricks
Creating accent walls with bright wall paint colors are modern interior design trends. Sapphire blue, forest green, amethyst purple and dark brown colors are typical for African home decoration style and look beautiful with a wooden African bed and inspired by Africa decor accessories.
Bedroom wallpaper in black, white and gray, one wall decoration
Bedroom wallpaper in soft colors for one wall decoration
Simple and comfortable bedding fabric, unique rugs, fur and bird feather textures, African furniture, bright wall paint colors and South African art works on walls define the exotic African home decoration style that add the mystery and romantic mood to your modern bedroom decorating ideas.
Modern bedroom color schemes
Exotic Moroccan bedroom decorating, light and deep purple colors
Yellow-red Tuscan colors, bedroom decorating ideas
Warm colors for bedroom decorating in Moroccan style
Posted: 13.10.2011 by Decor4all