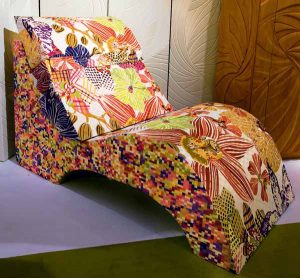 Tropical decor items, bright furniture and room accessories, inspired by exotic flowers, plants and animals, bring cheerful color combinations, interesting images and unusual patterns into modern interior decorating, celebrating the tropical theme. Rich green colors, turquoise and blue tones, mixed with bright orange, yellow and red, create the tropical paradise in your home.
Tropical decor theme is one of modern interior decorating trends that is timeless, optimistic and inspiring. Colorful Hawaiian decor and tropical decorating ideas from Central America, Brazil, Indonesia and Equatorial Africa add warmth and adventurous flavors to modern home interiors.
Outdoor and room furniture in bright colors made with floral upholstery fabrics are excellent for romantic Hawaiian decor. Furniture and room accessories, made with exotic animal skin-like fabrics are a way to add the tropical theme to exclusive and luxurious contemporary home interiors and outdoor rooms.
Top 5 modern interior trends in 2012 home decorating
Tropical decorating ideas
Wall mosaic tile design with exotic birds, tropical decorating ideas
Colorful images of climbing vines, fig tree leaves, palm trees, lotus flowers and orchids are inspiring and captivating ideas that create relaxing and beautiful tropical forest-like atmosphere, adding cheerful and bright tropical decorating ideas to home interiors.
Luscious greens, combined with other bright decorating colors, look gorgeous with room accessories, inspired by exotic flora and fauna of tropical forests, creating a mesmerizing effect, adventurous mood and romantic atmosphere of Hawaiian decor.
Bright decorating colors for Hawaiian decor, colorful table setting with tropical theme
Colorful paintings and bright furniture pieces, bright decorative fabrics and patterns are a beautiful ways to add the tropical decor theme to your home interiors and outdoor rooms, creating unique and stylish atmosphere.
Modern wallpapers with leaves, beautiful eco style room decor
Vintage furniture upholstery fabrics and painting ideas
Ways to emphasize tropical decorating
1. Bright furniture upholstery fabrics with floral patterns and fabric prints inspired by exotic animal skins.
2. Colorful wall decor with exotic plants, flowers, birds, fish, small and large animals, – mosaic tile designs, paintings, tapestry and decorative wall panels.
Wall decorations for adding tropical decor theme to modern bedroom
3. Decorative fabrics with tropical decor theme patterns, – window curtains, pillows, bedding, tablecloth and napkins.
4. Floor decor ideas that support the tropical decorating, – bright carpets and area rugs, floor lamps and sculptures, floor tiles and self-leveling floor designs, inspired by the tropical theme.
Modern interior decorating, floral wallpaper patterns in soft colors
Modern home furnishing colors and decorative fabric prints
5. Modern tableware with tropical decorating images, exotic plants, flowers and animals, flower-shaped plates and bowls, bright dinnerware and glasses.
6. Tropical theme prints on furniture surfaces, – dining table and book shelves, coffee tables and closet doors.
Room accessories with exotic animal images, iguana vase emphasizes tropical decorating ideas
7. Room accessories with exotic plants, flowers, birds, fish and other animals images, – decorative vases and storage containers, decorated with tropical theme stickers, bright baskets and storage boxes that add more color to tropical decorating.
8. Indoor plants, fresh flower bouquets and artificial floral arrangements enrich modern interior decorating, emphasizing the beautiful and stylish tropical decor theme.
Unusual flower arrangements, wall decoration
Bird inspired wall decoration ideas for kids rooms
An excellent example of creative and artful tropical decorating is a chair Liz for NATUZZI, the famous Italian furniture manufacturer.
Gray leather chair Liz with floral pattern in blue-green colors
Designer Ilgiz Fazulzyano, a jeweler, turned the chair into an amazing art object, adding gorgeous images of bright purple orchids and vines to the gray leather chair.
Posted: 14.02.2012 by Decor4all