Blue and green bedroom decorating ideas, inspired by the beauty of clear sky, cypress trees and morning mist, create cool and airy Tuscan style bedroom designs that are perfect for good night rest. Soft blue, green, yellow, pink and red are main Tuscan colors for bedroom furnishings. Also wooden furniture, window shutters and impressive ceiling beams are elements of Tuscan style bedroom designs. (Yellow-red Tuscan colors for bedroom decorating)
Muted blue and green Tuscan colors for peaceful bedroom decorating ideas feel relaxing and tender. Light blue and green are perfect bedroom colors that emphasize the elegance of freestanding wooden furniture  pieces and metal beds. Warm and comfortable wood, combined with blue and green furnishings make Tuscan style bedroom designs feel inviting and romantic. (Tuscan home decorating ideas, simple Tuscan decor)
White, off-white, white cream or very light peach bedroom walls set the mood for elegant Tuscan decorating style. Wooden or wrought iron beds, painted white, dusty pink, light blue, green or black colors, create romantic bedroom designs in Tuscan style. Wooden night tables with white marble tops, decorated with flowers and small lamps are charming details of simple and comfortable Tuscan decorating style.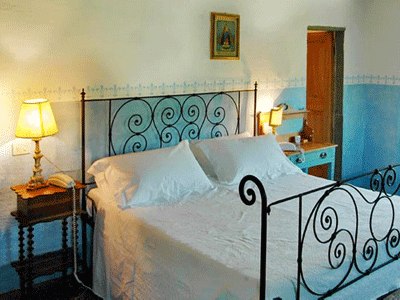 Terra cotta floor tiles match warm tones of wood on the ceiling that looks great with blue and green colors. (Bedroom decorating ideas, green paint and wallpaper) Small cotton rugs, colorful cushions and traditional Tuscan decorations on walls are simple bedroom decorating ideas that add comfort and beauty to Tuscan style bedroom designs.
Cotton window curtains with small floral or striped patterns, decorated with lace at the bottom and along the edges are practical and attractive. Pretty window curtains create a nice dress for an open window with a beautiful view and protect interiors from the sun.
Tuscan style bedroom designs are simple. The less is more is the principle for choosing bedroom decorating ideas for Tuscan style. Wrought iron wall decorations or sconces are typical Tuscan decor items. Original paintings in ornate frames, small floral arrangements or photographs add the Old World flavor to Tuscan decor. (Beautiful wallpapers, romantic vintage wallpaper patterns)
Soft pillows and throws with small floral prints or chair upholstery fabric add warm Tuscan colors to cool blue and green bedroom designs. Tuscan style bedroom decorating ideas is a blend of simple home decorations, soft colors and natural materials, typical for country style decorating. (11+ ways to add green color to bedroom decor)
The simplicity is the secret of Tuscan style bedroom decorating. Tuscan bedroom designs are in tune with simple pleasant views from bedroom windows, – blue sky, gray-green olive groves on beautiful hills and peaceful surroundings.
Tuscan style decorating ideas:
Tuscan kitchens, inviting Tuscan kitchen decor
Backyard ideas, Tuscan decorating style
Posted: 01.09.2013 by Decor4all