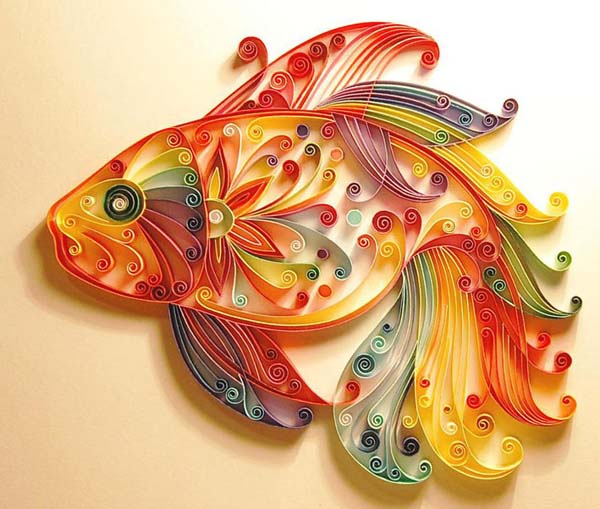 Quilled fish, colorful paper craft ideas

Unique paper art, handmade quills are amazing decorations that require patience and attention to detail, love for colors and a sense of style. Quilling designs from a young artist from London, England are colorful and optimistic, blending modern art with old quilling traditions that were created by nuns in Western Europe in Medieval Times.
The artist designs beautiful paper art works, offering inspiring craft ideas for those who love to work with paper. Quilling designs are a nice alternative for needlework, that create gorgeous home decorations and unique gifts that remind of embroidery.
Yulia Brodskaya was born in Russia, Moscow and moved to the UK in 2004. She was interested in diverse creative practices ranging from textile painting, origami, quilling and collage to more traditional fine art and delicate paper crafts.
Quilled fish, colorful paper craft ideas
Following an MA in Graphic Communication from University of Hertfordshire, she continued to experiment with quilling designs and explore unique ways of bringing together things she likes most: typography, paper craft and colors, blending them with highly detailed handmade objects and bright quilling designs.
Swiftly the artist has earned an international reputation for her innovative paper crafts and beautiful illustrations. Today Yulia Brodskaya www.artyulia.com/ continues to create striking, highly detailed handmade quilling designs for clients all around the world.
Colorful hand, unique quilling patterns and paper craft ideas
Quilling designs are made of thin strips of colored paper twisted on a tip of a quill pen and glued to the canvas, creating three-dimensional paper crafts and modern art works.
Unique wall decorating ideas, winter landscape, wool painting
Painting on swan feathers, Maori style feathers decorations
Quilling designs make excellent decorations and gifts, offering beautiful craft ideas for creating bright masterpieces of paper.
Go White quilled tree in white, elegant quilling designs from Y.Brodskaya
The artist loves colorful quilling designs that includes letters, hearts and flowers. Red and orange colors make her art works feel exciting and warm. Blue and green color tones add the flow to her quilling designs.
Simple glass painting design ideas, vase or wine glass painting
Unusual flower arrangements, wall decoration and craft ideas
Amasing qilling designs and paper craft ideas
Posted: 13.01.2012 by Decor4all