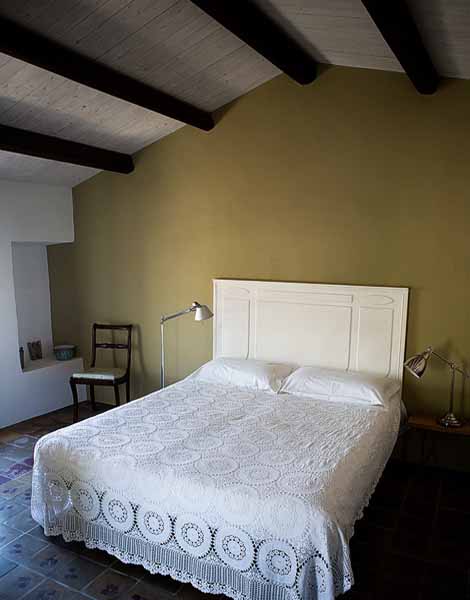 Unique Sicilian homes are transformed into modern hotel rooms with charming and romantic flavor of Mediterranean decorating style. Italian interior design can be different, bringing chic and cutting edge features into contemporary interior decorating or creating romantic retreats with Old World charm.
Traditional Italian decorating style is comfortable and inviting, offering pleasant living spaces for different lifestyle. Unique Sicilian homes Casa Talia in Modica Ragusa are decorated in traditional Italian decorating style with romantic bedrooms and welcoming dining room design.
Sicily, Italy is an island in the Mediterranean Sea. Modica Ragusa is the town filled with cultural influences that range from Greek to Arab. Cooking is a fine art form in Sicily. Enjoying meals in Sicilian homes and comfortable Mediterranean room decor are very important also.
Sicilian homes, Italian style room decor
Siciian homes in Modica Ragusa, Italian home decorating style
Traditional Italian decorating style with a regional charm of beautiful Sicily is mimicking the textures and colors found in Sicily landscape. Sicilian homes, decorated with natural stone, rustic and new wood and ceramics look gorgeous and unique.
The traditional Italian decorating style is associated with the countryside and nature, warm weather and lots of sunlight. Sicilian homes with textured painting, stucco, Italian tiles and stones look castle-like, offer very special experience and create unforgettable memories.
Sicilian house decorating ideas, bedroom decor in traditional Italian style
Traditional Italian decorating style create beautiful and stylish Sicilian homes. Romantic and artistic Italian interior design ideas shine in Sicilian house interiors. Fine antiques or reproductions look right at home in Sicilian house decorated in traditional Italian style.
Dining room in Sicilian house
Graceful curves and dark finishes on the furniture, sheer curtains, traditional crafts and rich tapestry prints, intricate patterns and embroidered pillows create lovely Sicilian homes that celebrate traditional Italian style.
Bathroom in Sicilian house
Charming room decorating accessories complete Sicilian homes Italian theme. Small pillars and candles, mosaic pieces and figurines attractively decorate Sicilian homes. Mirrors and fine art add nice decorative accents. Italian style chandelier is the ultimate finishing touch for the room in Sicilian house.
Italian home decorating style
Tuscan bedroom decorating ideas
Posted: 10.12.2011 by Decor4all