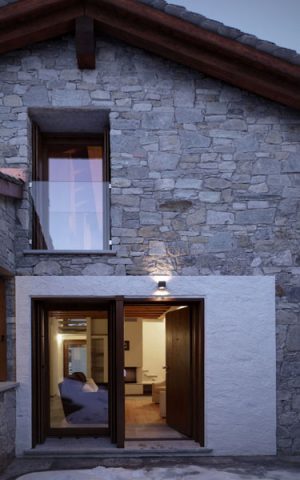 Italian style old country homes feel very special, romantic and unique, offering exceptional architectural features and interior design ideas that will stand the test of time. Renovating and restoring country homes require the commitment, patience and good knowledge of local building technology and interior design traditions.
Italian style old country home Casa Up, located in Madesimo, a popular winter holiday destination in Lombardy, Italy is a great renovating and interior redesign project from Italian architectural firm Es Arch, es-arch.it/
Do you dream of a big project like renovating an old house? Do you like Italian style country home interiors? This renovating and interior redesign project is about appreciating heritage houses and bringing charm of Italian style old country homes into modern interior design.
Old house renovating and exterior redesign project
Italian style country home after renovation, Casa Up exterior and interior design project from Italian architects
Romantic and unique old house interiors of Casa Up once were a barn and stable. The old building exterior and interiors were dramatically transformed by Italian architects, creating modern house design with impressive exterior and comfortable home interiors, turning an old building into a charming and welcoming Italian style country home.
Casa Up country home renovating and interior design project by Es Arch – Enrico Scaramellini Architetto included the reconstruction of an existing building, respecting the same profile and using traditional building materials.
Old house exterior with modern wooden doors
The old building was distributed on two levels with different function, stable at ground floor and barn at first floor. On the outside the existing building is characterized by two overlapping doors on east elevation, a great entrance on south elevation, a little independent volume still on south.
Unique Sicilian homes, traditional decorating in Italian style
Backyard ideas, Tuscan decorating style
The intention of new building project is to improve itself in relation of its context and to enhance some existing elements and bring modern interior design ideas into the architectural composition without distortion of the house proportions and using natural materials for old house exterior and interior design.
Interior design ideas for old house
Italian style country home interiors, modern living room design with wood ceiling beams
Overlapping doors create the great wood and glass house exterior design, adding warm brown colors to house exterior in neutral tones and creating attractive contrasts that give this country home unique character and Italian style charm.
Tuscan home decorating ideas, simple Tuscan decor
Old world bathroom decorating ideas
With no freedom for reinterpretation of form, the renovating exterior and interior design project used the existing elements. The great rectangle, traditional to rural practice in the past, contains the windows and becomes the main element of the new house design.
Old country home with a traditional fireplace, slate floor and wood ceiling beams
Traditional building, interior design and decorating materials, – stone staircase and floow, wooden ceiling beams and walls, – combined with comfortable brown colors and simple home furnishings in neutral tones, make modern interior design ideas feel elegant and timeless.
Modern interior design trends inspired by patchwork fabric
Modern interior design with French chic
Main purpose of this old building renovating and interior design project is to create a new Italian style country house design, respecting the old building traditions, using existing marks and traditional materials for contemporary architecture and modern interior design.
Posted: 25.01.2012 by Decor4all