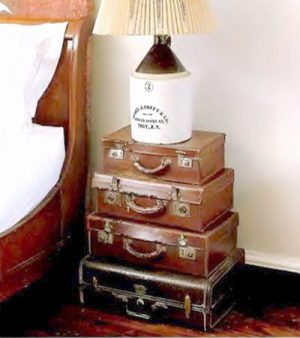 Unique vintage furniture made of old suitcases bring interesting room decorating theme, inspired by exciting trips, and add charming decorative accents to modern interiors in vintage style. Old suitcases are inspiring and functional home decor items that offer an excellent material for unusual and creative vintage furniture design.
Vintage style feels familiar and welcoming. Fine old suitcases and home decor accessories in vintage style are popular room decorating ideas that transform home interiors into cozy and warm retreats, perfect for relaxing and pleasant lifestyle.
Antique finish and home decor accessories in vintage style, combined with tender pastel colors or neutral color tones and attractive decorative fabrics make room decor look soft and very attractive. Old suitcases are the excellent material for creating unique vintage furniture items that increase the effect.
Recycling old suitcases for wall shelves, retro home decor ideas
Vintage furniture collection from Les Valises, modern furniture for retro decor
Recycling old suitcases for vintage furniture
Storage unit made of old suitcases for entryway decorating in vintage style
Used or broken suitcases without handles and locks, with holes and patches are wonderful for making vintage furniture pieces that give strong personality to room decor and provide extra storage spaces, creating more organized homes.
Coffee tables and wall shelves, bedside tables and pet beds, storage units with drawers and decorative accessories, any vintage furniture made of old suitcases look beautiful.
Two chairs with side table made of old suitcases, vintage furniture design idea
In the combination with other antique and vintage home decor accents, old suitcases create charming and interesting room decor in vintage style.
Vintage furniture, modern interior decorating with chairs in vintage style
Recycling old folding lawn chair fro unique furniture piece
Old suitcases are great for inexpensive and simple DIY projects for creative and very personal room decorating.
Bedroom decorating with handmade vintage furniture, bedside table made of old suitcase
Re-purposing old suitcases for vintage furniture and decor accessories are a wonderful way to show your talents and a sense of style, creating beautiful and modern home decor in vintage style.

Posted: 08.05.2012 by Decor4all