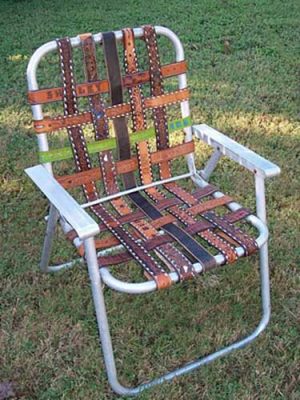 Recycling ideas offer interesting craft and DIY projects that help declutter homes and create unusual and attractive furniture and decor accessories for your rooms, balconies and backyards. Turning a folding lawn chair into a unique furniture piece adds a personal touch to your beautiful sun rooms, decks, porches, balconies and backyard ideas.
This folding lawn chair redesign project is found on KIKITHESPUNKYMUNKY blog, kikithespunkymunky.blogspot.fr/ and give a great inspiration for recycling old chairs and designing masterpieces, using few belts and a folding lawn chair aluminum frame.
Folding lawn chairs and tables are very convenient and space saving modern furniture for decorating sun rooms, decks, porches or balconies. Folding lawn chairs are excellent furniture for traveling and picnics, fishing and outdoor recreation.
Creative furniture decorating with fabric
Blackboard paint, DIY modern furniture decoration in black and white
Old folding lawn chair recycling and redesign, recycled crafts
Comfortable ad light, folding lawn chairs are versatile and comfortable. Usually made of synthetic or natural fabric and a light aluminum frame, old folding lawn chairs are great material for recycling and creative furniture decoration projects.
Old fabric can be removed and a lawn chair frame can be used for creating a new piece of portable outdoor furniture with decorative rope, bright fabric or leather belts. Here is a beautiful backyard idea for an old folding lawn chair restoration.
Leather belts used for lawn chair design, recycling ideas
Folding lawn chair design
I decided to finish my up-cycled vintage lawn chair. Finally. So I decided to quickly list it on Etsy as I'd like to make a few more of these pups. And I've never seen a chair like this before… I love how it turned out. And I love it's fire pit time again, where I'll sit in my new favorite campfire chair, – says the creative and resourceful craftsman.
Wooden furniture decoration with stencils, 15 furniture painting ideas
Recycling old suitcases for wall shelves, retro home decor ideas
Unique furniture design ideas recycling leather belts and old folding lawn chair frame
Posted: 20.04.2012 by Decor4all