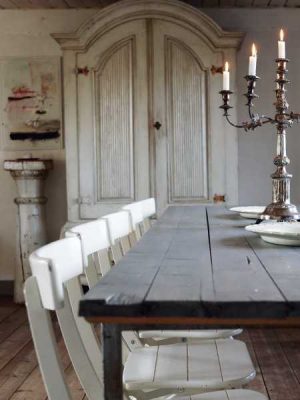 Shabby chic decorating ideas are about the cozy and comfortable atmosphere, inspired by happy childhood memories. Shabby chic ideas remind of summer holidays at grandma's house where every scratch on the old furniture and vintage decor, pitchers, vases, books and postcards on display have a fascinating story to tell you.
Shabby chic decorating, whether it is Swedish, English or American, is a way to bring the history into modern room interiors and create attractive, meaningful and stylish room decor. Shabby chic bedroom or living room, kitchen or foyer decorating uses soft and warm materials. There are no shiny metal surfaces, except silver, no aggressive lines and strong color contrasts. Shabby chic ideas add peaceful atmosphere into the rooms, filling them with light and coziness.
Shabby chic home decorating uses many small decor accessories, pictures and souvenirs, that keep memories of important events. Soft pillows, photographs and shabby chic fabrics create an antique look, giving the impression of a cozy home with the collection of cute home decorations.
Swedish shabby chic decorating
Shabby chic decorating ideas and inspirations
20 modern bedroom ideas in classic style, beautiful wallpapers and furniture
Shabby chic decorating colors
Shabby chic decorating style uses relaxing, soft, pleasing to the eye, diluted and tender room colors. Pastel colors and soft room colors associated with food and roses are perfect shabby chic ideas. Soft black and elegant gray tones, peaceful blue color shades and chocolate brown colors, all color shades associated with gorgeous roses, vanilla and white cream colors are excellent choices for shabby chic decorating.
Pastel and light room colors create a gentle and comforting environment. The best way to use white color for decorating Swedish shabby chic interiors is to bring slightly yellowish, grayish, pinkish and bluish white color shades.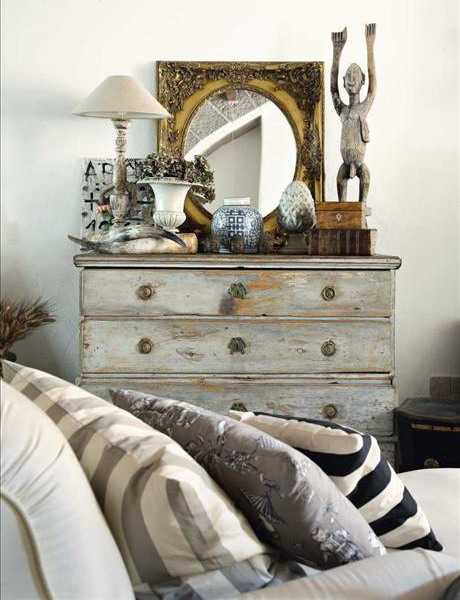 Shabby chic furniture
Shabby chic furniture with soft curved lines and without sharp angles feel inviting and comfortable. Scratches and  wear add unique vintage charm to shabby chic furniture and decor accessories. Shabby chic interiors are associated with rocking chairs, grandfather's clock, grandmother's dressers with lots of drawers, wooden dining tables, chairs and sofas with soft colorful upholstery fabrics.
Vintage furniture collection from Les Valises
How to use antique furniture and decor accessories for modern interior decorating
The ideal shabby chic fabrics are natural, cotton and wool. Wood is metal, painted light colors are great choices for shabby chic interiors. Wooden and metal shabby chic accessories also add to the atmosphere of peace and tranquility, that English, American or Swedish shabby chic interiors create.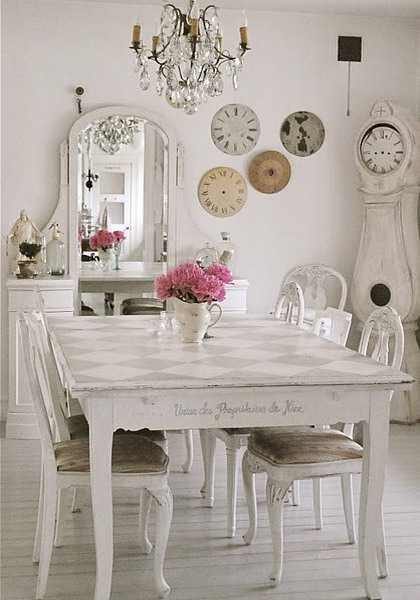 Shabby chic interiors may combine old furniture in different style, from expressive art deco chairs and tables to fabulous tables and beds in Baroque style. Antique furniture is the best choice for shabby chic interiors. Modern aged furniture pieces are handy for shabby chic decorating also. Contemporary techniques allow to design modern furniture that looks like it was made centuries ago and was used by few generations.
Top 5 modern interior trends in home decorating
New 18th century French decorating ideas, rediscovering French style
Shabby chic decorating is a way to create modern interiors that showcase their individuality and unique character.  Shabby chic interiors look precious and delight with sentimental details. Using sand paper, acrylic paints and decoupage techniques you can turn plain old furniture into fantastic, creative and charming masterpiece, perfect for shabby chic decorating.
Posted: 30.09.2012 by Decor4all