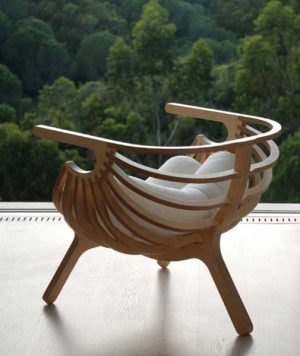 Modern chairs and armchairs collection from Branca are elegantly simple, comfortable and very decorative. Made of pleasant birch plywood, these contemporary chairs from the Portuguese company playfully present Nordic design blended with organic shape and romantic tropical sea shell inspiration.
Its original design and flexible material blend into comfortable curved modern chair in minimalist style. Eco friendly chair design from Branca, adorned with a soft cushion and nestled by a fireplace, makes a attractive centerpiece, creating an inviting seat.
Its sea shell shape envelops you, allowing for a natural curvature, soften with luxurious pillows and a warm blanket. The chair, which is made of bent plywood, showcases beautiful nature inspired curves, and chair design fells soft, strong and inviting.
Sea shell residence, contemporary home with white interior decorating
Eco friendly table decorations and centerpieces, driftwood craft ideas
Birch plywood chair inspired by sea shells
Modern chair and armchair collection from Branca is a new line of eco friendly products and accessories for home decorating.
Attention to detail, coupled with great quality of materials, make these modern chairs exclusive and desirable. The aim of the Portuguese designer Marco Sousa Santos was to combine the skills of the craftsmen of his land with the recent possibilities of digital instrumentation.
Contemporary chair design in minimalist style
Sea shell inspired contemporary chair design made with light wood
The purpose of designing outstanding modern chair collection is fully achieved. Beautiful organic form, light tones of wood and clean elegant lines give these modern chairs strong personality and luxurious warm feel.
Posted: 06.09.2012 by Decor4all